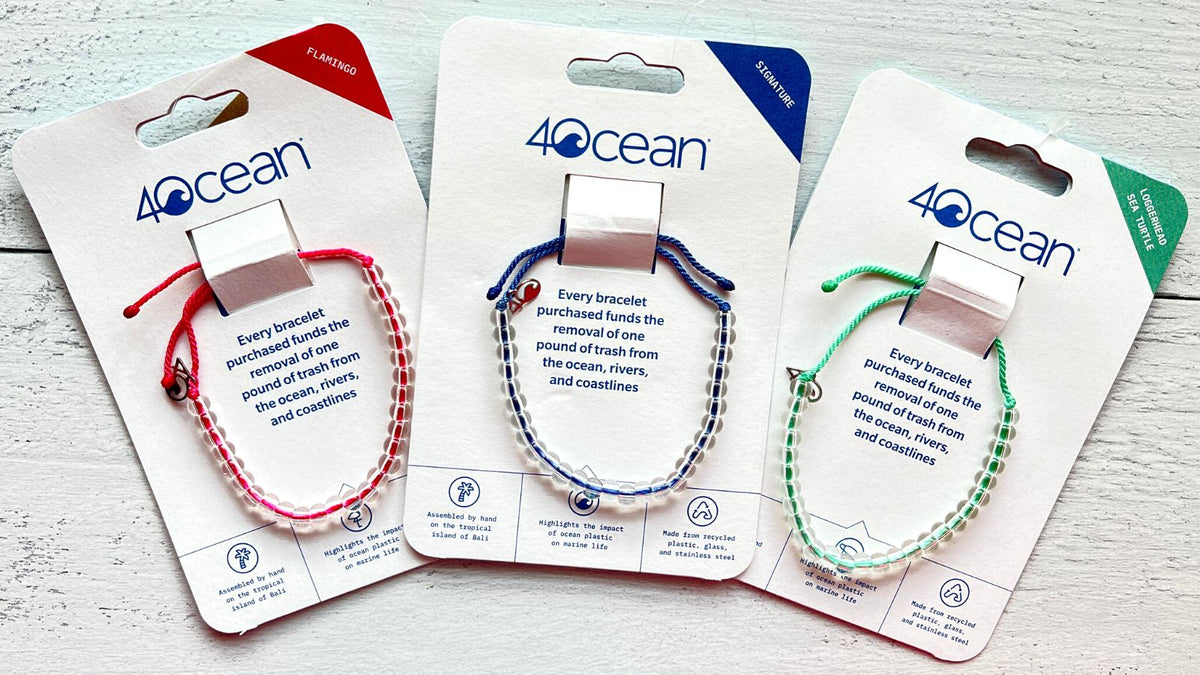 New England Trading Co. Proud to Be Named a 4Ocean Retailer
With more than 8 million tons of plastic ending up in our oceans each year, it's easy to feel discouraged. But here at The New England Trading Co., we know that "large acts are made up of small deeds" (Lao Tzu) and every one of us can make a difference.
That's why we're proud to work with 4Ocean, a leader in the ocean clean-up effort, by offering their unique bracelets and water bottles.
With a "one pound at a time" motto, every 4Ocean bracelet or bottle purchase funds the removal of one pound of trash in our coastal waterways, beaches, or ocean. 
That means YOU can make a difference. Together we can pull thousands of pounds out of the ocean.
Let's do this.
4Ocean​​
4Ocean​​
More about 4ocean:
We're always looking for inspiration to help protect our oceans and we couldn't be more thankful when we partnered with this company that's doing so much to make the world a better place - one pound of pulled trash at a time.
For 4ocean founders Alex Schulze and Andrew Cooper, the concept for the brand came to mind when they landed on a garbage-covered beach in Bali, filled with waste that washed up from the shore.

As surfers who are passionate about the waters, it became their mission to rid the world's beaches and coastlines of plastic pollution.
4Ocean​​
4Ocean​​
4ocean has been selling recycled material bracelets and other eco-friendly products since 2017, pledging to recover a pound of trash for each product sold. Using proceeds from the sales, they set up cleanup operations across the world, including highly populated countries with a lack of proper waste management systems and facilities, like Indonesia and Haiti, with each trash collection being documented.
The 4Ocean Beaded Bracelets come with clear beads manufactured using 95% certified post-consumer recycled glass bottles, including less than 5% reclaimed ocean glass. Then, they are assembled by hand by artisans in Bali, Indonesia.
Each bracelet is 100% waterproof so you don't have to worry about getting it wet when you're out enjoying the waters.
Eliminating the need for single-use bottles and styrofoam coffee cups, the 4Ocean Reusable Bottle is double-walled and vacuum-insulated to keep your beverage hot or cold, at the right temperature.

Each bottle is etched with the 4ocean logo and the "one pound pulled" mantra. Whether you're headed to the beach or want to bring a drink for your daily commute, this is the reusable bottle that will truly make an impact.
Giving back: Be a part of the solution and spread the word! Your purchase helps support 4ocean and other organizations dedicated to cleaning up our oceans, lakes, and rivers.
4Ocean​​
Fast UPS Shipping
Orders Ship in 1-2 Business Days
Five Star Service
Fast turnaround on all inquiries
Easy Returns
Your Satisfaction Guaranteed
Local Maine Business
100% Woman-Owned