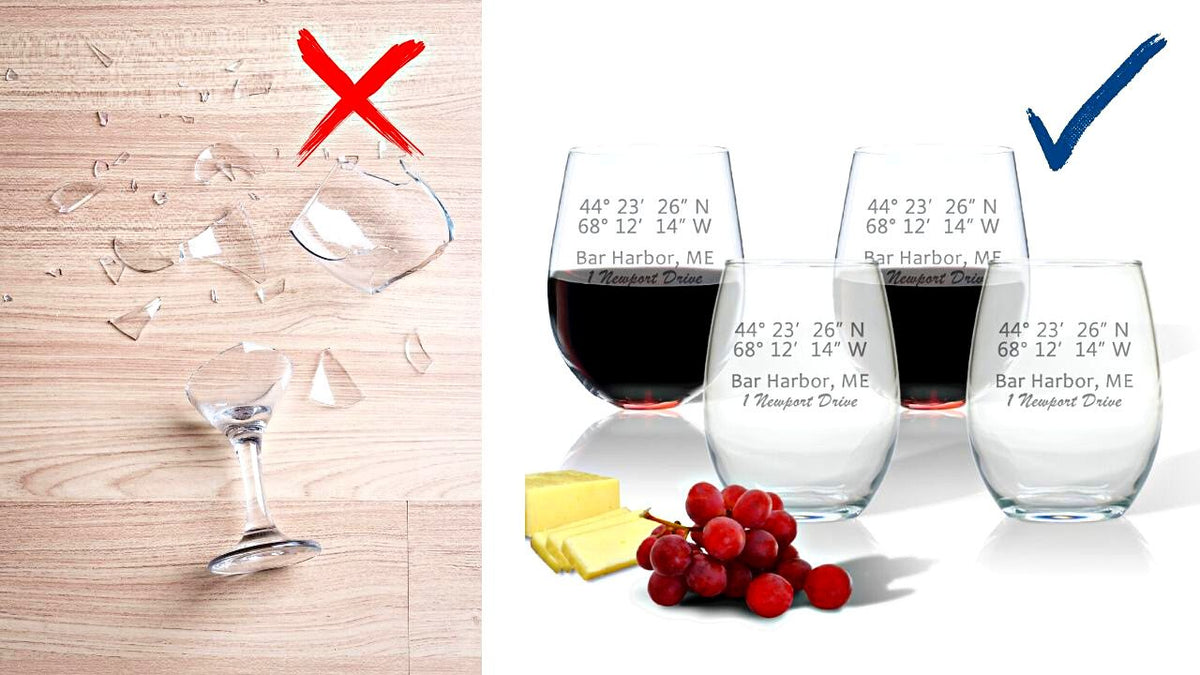 Bye, Plastic Cups! Unbreakable Acrylic Wine Glasses Are Here to Stay
If you love entertaining guests outdoors in style but don't want to risk your fine glassware, you might think about plastic.

But, how do you maintain your party's elegance when using single-serve plastic?

Good news.
Our Unbreakable Acrylic Wine Glasses are shattering old plastic's popularity (pun intended!)
It is an upscale, sophisticated and elegant line of crystal-clear, reusable drinkware that will enhance your next party in the most convenient of ways.

Crafted from premium acrylic material, our drinkware is engineered to be crystal-clear with exceptional clarity. 
You'd think they're glass until you actually pick them up or drop them - designed to retain its original luster and gloss, these acrylic wine glasses are made to stand out.
Retains exceptional clarity - even after dishwashing
Use them again and again. Our premium Unbreakable Acrylic wine glasses can go through the dishwasher, be used in the microwave or even the freezer, and will maintain their exceptional clarity.
Trade in your single-serve plastic for a line of acrylic drinkware that endures for years. It's a great investment for you and the planet.
Perfect for pool parties & backyard barbecues
Relax next time you have small children or pets at your backyard barbecue or pool party. Our drinkware is shatter resistant - no glass to worry about!
Stash a few acrylic wine glasses in your beach tote or picnic basket - no problem! They won't chip or break.
Personalized with precision laser engraving
Each piece is precision engraved - customize with your name, latitude longitude coordinates, or whatever you want! Our Master Engraver carefully creates each piece one at a time to ensure excellence.
Celebrate a new home or mark your favorite vacation spot - you can add your own lines of customization, from family and boat names to lake houses and anniversary dates. 
All carefully engraved with precision and crisp detail, our timeless nautical engravings make these acrylic wine glasses extra-special nautical gifts for your loved ones!
Plus these personalized unbreakable drinkware arrives in a white gift box ready for gift giving.
Bonus:
Engineered with FDA approved materials and completely BPA free, there's no reason not to upgrade your outdoor drinkware to the longest-lasting and best on the market.
These personalized unbreakable acrylic wine glasses are the perfect choice for anyone who loves outdoor entertaining and spending time at the beach or by the sea.
Our drinkware line is not only durable and practical but also stylish and elegant. And with the option to personalize them with coordinates and nautical designs, they make a great gift for any occasion, especially for friends and family who love the ocean and all things nautical. 
Plus, their clear design offers the same aesthetic appeal as traditional wine glasses, making them the perfect choice for any event, whether it's a beachside gathering or a backyard barbecue. 
So (wine) not invest in a set of these unbreakable acrylic wine glasses today? They're sure to make a splash at your next beach party or summer get-together!
Bonus: Check out more accessories below to pair with acrylic wine glasses for the ultimate coastal gift.
Fast UPS Shipping
Orders Ship in 1-2 Business Days
Five Star Service
Fast turnaround on all inquiries
Easy Returns
Your Satisfaction Guaranteed
Local Maine Business
100% Woman-Owned