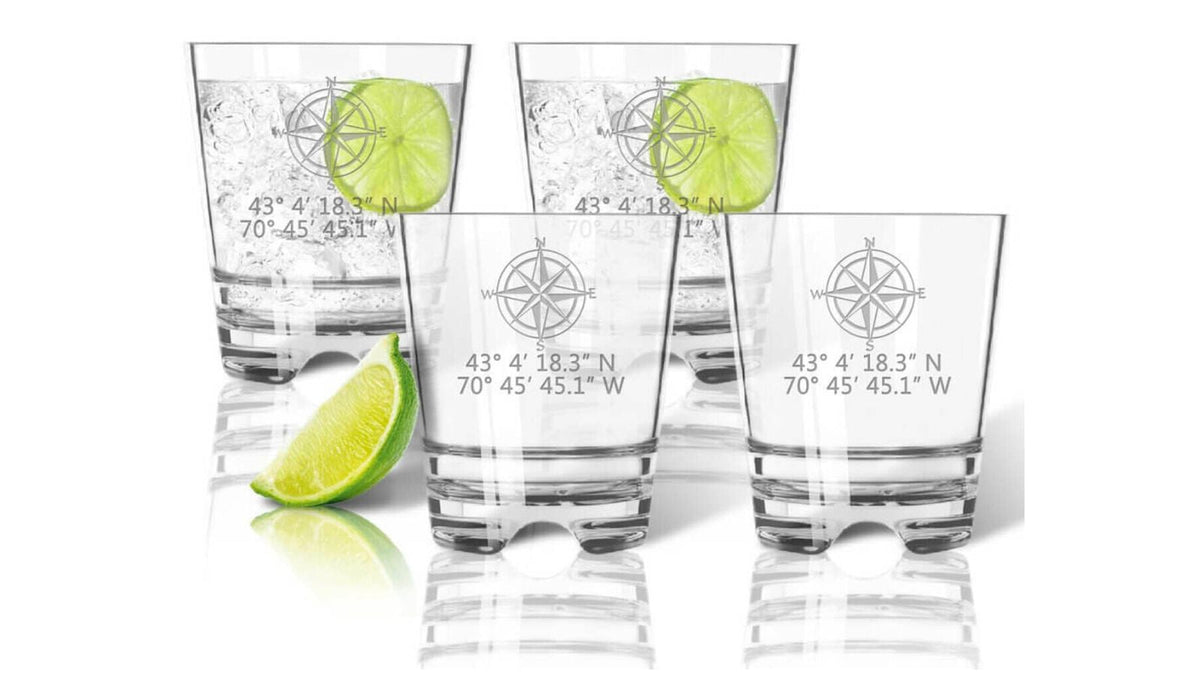 Our Latitude & Longitude Design Now Available on Unbreakable Acrylic Glasses
As boaters, Jeff and I are just head over heels in love with our outdoor-friendly Unbreakable Acrylic line of beverageware. Each piece looks and feels just like glass - until you drop one!
It's not that we are picky, but there's an added element of style when you use real tumblers, wine stems, stemless wine, and coolers when entertaining outdoors. Glass just isn't the best choice for al fresco dining - be it poolside, seaside, deckside... or wherever you can feel the warm sun on your face.

Plastic is...well, a bit cheap feeling. That's why our Unbreakable Acrylic gives you the best of both worlds: stunning, clear drinkware with the durability of acrylic.

Engineered to be impact and shatter resistant - you'll enjoy yours for years to come. Using the latest advancements in material science and production standards, this unbreakable acrylic line is vastly improved from the drinkware of the past. Plus, each piece is both made and engraved in the USA.
Personalized with GPS coordinates of your supplied address
Our exclusive Latitude & Longitude design has been a big hit in the Quality Glassware line for years. We're so excited to offer it now in the Unbreakable Acrylic. All you need to do is tell us what address to use and we'll take care of the details.
The actual coordinates will be located and precision engraved on each glass, and the street/city/state will appear below it. Or, if you want to supply a vanity address we have a special text box you can use.
Unbreakable acrylic is perfect for outdoor entertaining
If you're planning an outdoor shindig and worried about your glassware getting shattered, well, fear not because these unbreakable acrylic glasses are here to save the day.

Perfect for outdoor entertaining, this drinkware line is super tough. You can accidentally drop or bump them without any worries because they won't break or shatter. So, go ahead and dance the night away without any stress.

No more worrying about broken glass around your little ones or your furry friends. Unbreakable acrylic drinkware is shatterproof, which means they are safer than traditional glassware.

These unbreakable acrylic glasses are super light, too. That's right, they are a breeze to transport and handle. So, you can focus on having fun and not worrying about lugging heavy glassware around.

Our glasses are a snap to maintain, and you can wash them in the dishwasher or by hand. Spend more time enjoying your party and less time cleaning up.
A thoughtful gift for new home or boat owners
We all remember our first home - and boat. :) and some of you will want to mark your first 2nd home (lucky you!).
These latitude & longitude glasses are a wonderful way to mark that special place on the planet that is all yours. For new boat owners, you can choose a favorite waterway or one of our personalized nautical designs.
Check out our personalized unbreakable acrylic glasses for that special nautical gift idea - or to treat yourself!
Fast UPS Shipping
Orders Ship in 1-2 Business Days
Five Star Service
Fast turnaround on all inquiries
Easy Returns
Your Satisfaction Guaranteed
Local Maine Business
100% Woman-Owned