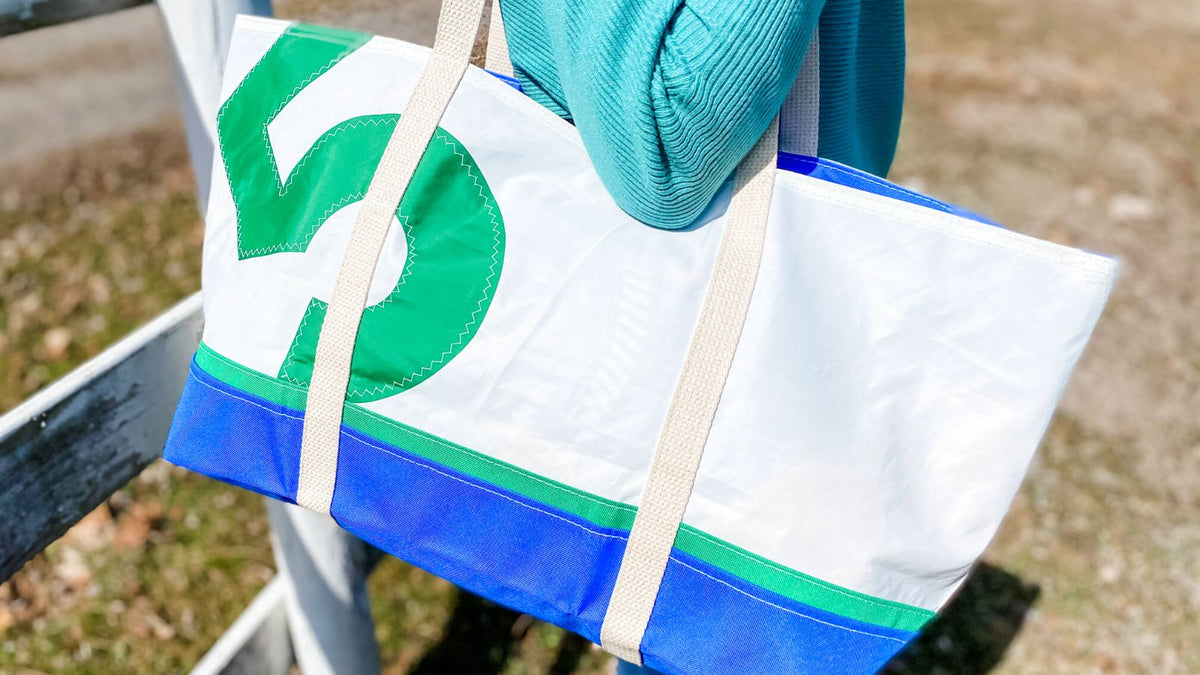 The Virtually Indestructible Recycled Sailcloth Bag
For obvious reasons, sailcloths have to be one of the most durable cloths available on the planet.
Throughout history, sails have been made of linen, cotton, flax – even heavy canvas. Today, most sails are made of woven Dacron and Kevlar – chosen for their strength, yes, but also because they are more lightweight, flexible, and water-resistant.
Sailcloth can withstand not only consistently heavy wind, but even huge wind gusts without ripping. And, with Dacron's tight weave, while not 100% waterproof, it is very water resistant to waves and spray. And, it's not easily prone to scratching, tearing, or scuffs.
These are excellent traits for totes, duffel bags, handbags, backpacks, and more.
Recycled sailcloth is so rugged, it carries your belongings without fear of a hole or rip – and keeps your things dry if you happen to set it in a puddle, or spill a drink (outside of the bag!). And with maritime zippers throughout, the zippers don't create rust stains on your bag if they get wet.
Browse our full selection of recycled sailcloth bags – every one we offer is handcrafted and made in USA.
Our Recycled Sailcloth Bags are handcrafted with care in Maine. Each bag is unique, showcasing the distinctive character and stitching of the original sail, and is finished with a sewn-on emblem (the numbers may vary). 
You can fit all your beach essentials, including towels and blankets, and have plenty of space to store your gear and quickly find what you need.
Whether you're a lover of all things summer or simply appreciate the beauty of sea creatures, this Pink Starfish tote is the perfect tote bag for you. The playful summer print is sure to turn heads and add a pop of color to your outfit, while the roomy interior provides ample space for all your essentials. 
So, whether you're headed to the beach or just running errands around town, this recycled sailcloth bag has got you covered.




The ultimate accessory for any seafaring adventurer, the Recycled Sail Duffel Bag has a rugged and sustainable design that can withstand anything the ocean throws its way, whether you're out at sea or exploring a new city.
And don't worry about carrying it around – this sailcloth bag's cotton webbing handles and adjustable shoulder strap make for a comfortable carry so you can enjoy your journey. 
This Recycled Sail Wristlet is the ultimate travel companion for those who like to keep things light and breezy. With a secure zipper closure, you can rest easy knowing that your cash, cards, and keys are safe and sound. The adjustable wrist strap reinforced with a grommet makes it super easy to carry around, so you can just grab and go whenever the mood strikes.
This wristlet is the ultimate go-to for everyday use, but it's also the perfect accessory for a day at the beach or any adventure that comes your way.
The authentic nautical look and feel of the recycled sails themselves provide one of the coolest looks around. With classic zig zag stitching to reinforce the authentic sewing techniques of sails in the original form, and the bold, bright designs added for chic style, you get durable function with form! 
Sailcloth bags stand up to the rough treatment we can tend to put them through, whether part of our daily routine, or the added handling of travel.

Another cool thing about sailcloth bags is that each one is unique. You can even find original grommets and other cools part of a sail that once flew over a body of water right on your bag – what a great look, and an even better conversation starter!
Fast UPS Shipping
Orders Ship in 1-2 Business Days
Five Star Service
Fast turnaround on all inquiries
Easy Returns
Your Satisfaction Guaranteed
Local Maine Business
100% Woman-Owned