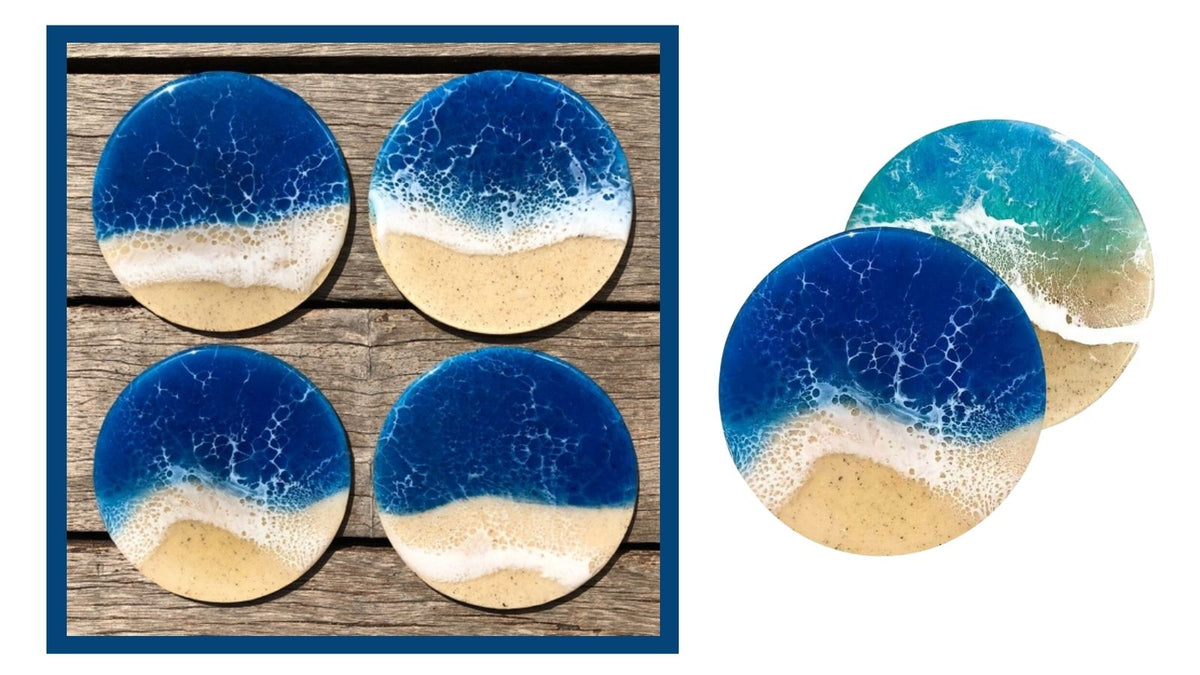 Why Coasters Make Great Coastal Gifts
Coasters make great coastal gifts - really! Nothing makes me sweat more than a glass sweating on my nice wood furniture. I am overzealous about this - I know - but I do not care what anyone says. You can never get those rings out.
So, what is the perfect gift? Coasters! What an incognito way to help your hostess keep her furniture looking lovely. But, not just boring coasters. 
Here's our list of favorite coasters that are never boring and make fun coastal gifts every single time:
Ocean Wave Resin Beach Coasters
Every piece is carefully crafted by hand, with the artisan incorporating natural beach sand and colored resin into each design. The result is a one-of-a-kind 
resin beach coaster
 with no two pieces being exactly alike. Want to surprise your beach-loving friends? Our coasters make the perfect coastal gift for any seaside occasion.
Sand Dollar Coasters in Water Hyacinth Basket
Get ready for your next coastal adventure with these beautifully carved sand dollar coasters made of resin. The set also comes with a charming water hyacinth basket for display, and each coaster is decorated with a fun beachy quote such as "welcome to paradise" and "make time for sunshine." Bring a touch of the beach to your loved ones' homes with these coastal gifts perfect for any occasion.
Seagrass Coaster Set
Bring a touch of the coast into your home with this gorgeous set of seagrass coasters, each hand-painted, and comes in a matching storage basket. Looking for a thoughtful coastal gift for your next beach party? Pair these coasters with our unbreakable acrylic glasses to impress any hostess.
Nautical Rope Coasters
Made from 100% absorbent cotton, they come bundled together with natural rope and feature a charming nautical blue and white anchor charm. Whether they're an avid beach-goer or just love the seaside vibe, these nautical coasters are the ultimate coastal gift for anyone who loves the water. 
A Coastal Gift for Lake Lovers: The Lake Inspired Coaster Set
Perfect for lakeside gatherings, these silicone coasters feature four lake-themed sentiments, including "lake people," "lake life," "the lake is calling," and "welcome to the lake." These coastal gifts are a thoughtful way to bring a touch of the lake to any home.
Nautical Rope Coasters with Leather Detail
If you're looking for the perfect coastal gift to give your ocean-loving friends and family, consider pairing a set of these beautifully crafted coasters with personalized nautical glasses. Not only will your recipient love sipping their favorite beverage from a glass that's customized just for them, but they'll appreciate having a stylish, functional way to protect their furniture, too.
With our coasters ranging from fun and bold patterns to classic, timeless themes, when paired with nautical glasses, they're a coastal gift that's sure to make a splash.
Fast UPS Shipping
Orders Ship in 1-2 Business Days
Five Star Service
Fast turnaround on all inquiries
Easy Returns
Your Satisfaction Guaranteed
Local Maine Business
100% Woman-Owned