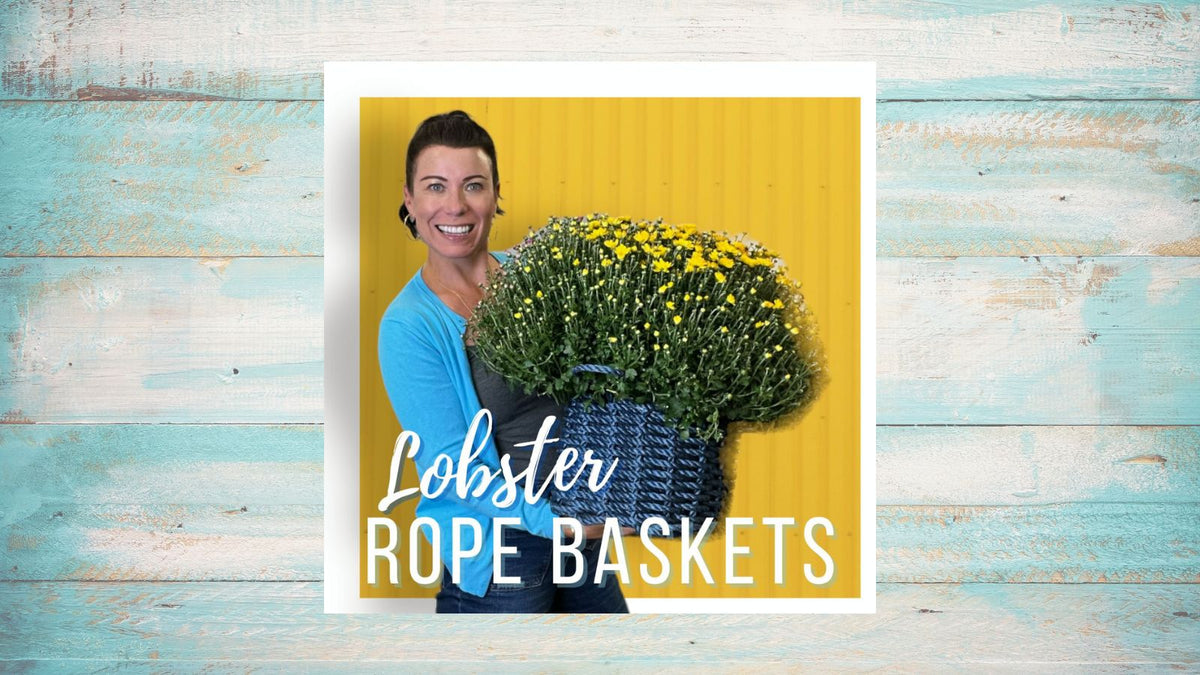 25 Ways to Use a Lobster Rope Basket
So versatile, our Lobster Rope Baskets can be used all throughout the home. 
Water-resistant & mold-resistant, these long-lasting nautical totes are handwoven from new rope designed to tether buoys to lobster pots.
Here are some of the top ways our customers use Lobster Rope Baskets, and how you can, too!
1. Outdoor garden planter for seasonal flowers. The perfect pot, water runs right through them (no more worries about over-watering) and the rope will never rot (see video below for tips).
2. Paired next to a Lobster Rope Doormat at your front door for extra curb appeal.
3. Tuck in some freshly baked blueberry muffins for a lovely nautical gift.
4. Beach picnic! When you're done just hose your Lobster Rope Basket down.
5. Roll up some crisp white towels and place next to the tub.
6. Boat keys, car keys, and all that stuff that piles up near the door. What a pleasant way to hide the everyday essentials.
7. Plant your favorite herbs and keep in a sunny kitchen window.
8. Organize your garden tools in the Lobster Rope Basket - dirt and all.
9. Present napkins, plastic forks and spoons, plus condiments for your next barbecue.
10. K-cup and tea bag organizer.
11. Make it a unqiue Easter morning by filling one with Easter eggs, grass, and treats.
12. Display Christmas cards.
13. Gather flip-flops by the door.
14. Present seasonal fruit and vegetables from your farmer's market. 
15. Wash them and let them air dry right in the rope basket.
16. Prepare your guest room by tucking in an extra toothbrush, toothpaste, shampoo and other essentials in a Lobster Rope Basket by the bedside.
17. Hide bathroom tissues.
18. Display your seashell collection.
19. Fresh cut hydrangeas and other flowers look amazing in a Lobster Rope Basket.
19. Collect pine cones and other fresh scented outdoor potpourri.
20. Grab a basket next time you go apple picking.
21. Present your freshly baked apply pie in a Lobster Rope Basket.
22, Collect all your sunscreens.Use as an outdoor shower caddy.
23. Wrap dinner rolls in a lovely napkin and present in your Lobster Rope Basket.
24. Gather all dog toys, leashes, and tennis balls to tuck away each night.
So there you have it! Lobster rope baskets are such a perfect fit for a beach-inspired home because:
They're a practical and stylish way to keep everything organized and within reach.
Each lobster rope basket adds a lovely touch  of color and texture to your decor. 
Super versatile, you can use them in any room of your home.
They're a classic and timeless addition to any beach-inspired decor, and will never go out of style.
Fast UPS Shipping
Orders Ship in 1-2 Business Days
Five Star Service
Fast turnaround on all inquiries
Easy Returns
Your Satisfaction Guaranteed
Local Maine Business
100% Woman-Owned