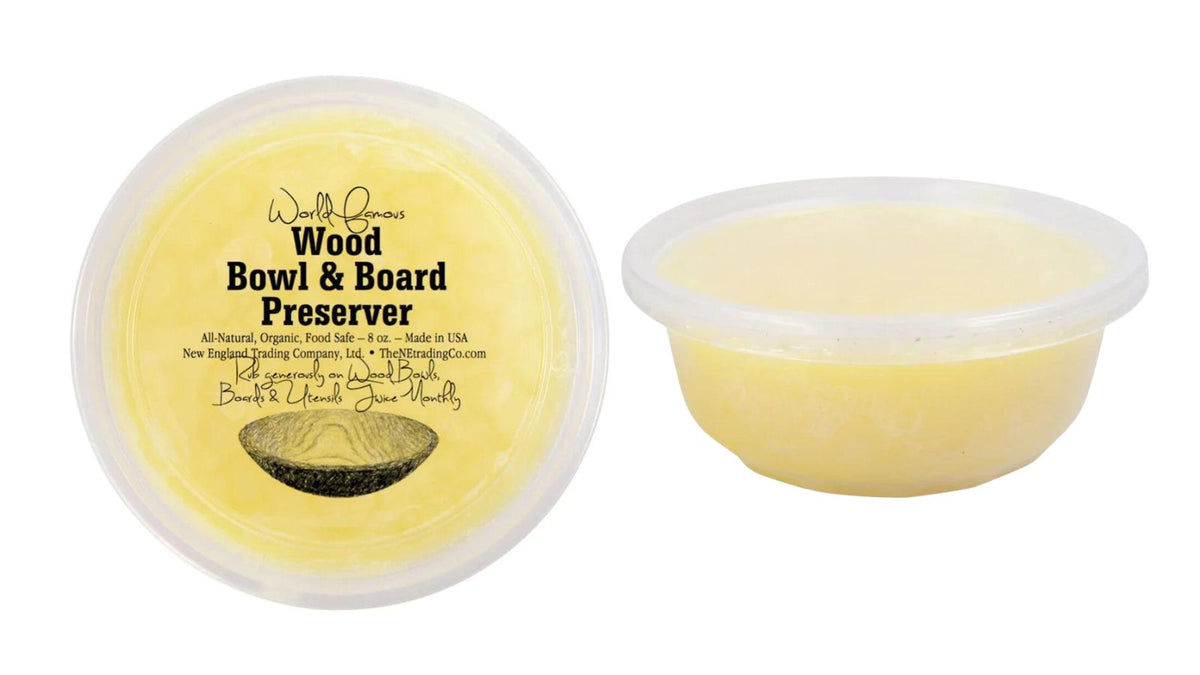 Miracle Potion For Restoring Wood Bowls? Yes.
No two words are better to describe what our Wood Bowl & Board Preserver can do for your wooden bowls, wood cutting boards, and wooden utensils!
But here are a few runner-ups:
"Unbelievable Difference"
"Absolutely Can't-Live-Without-It"
OK, that last one was more than two words. But customers who have tried it agree: using our rub on your wood bowls and boards keeps them in tip-top shape to last a lifetime!
Just what makes it sooooo good!? Our wood bowl rub is a 190-year-old formula of just the right blend of bees wax, canuba oil, and just a couple of other oils that give your wooden utensils, bowls, and boards a glowing sheen that rejuvenates, restores, and protects them. 
And, it is 100% organic, food-safe, and has no scent or taste.
If you have any wooden kitchenware in your home, whether purchased from us or not, we urge you to keep it in top shape for a lifetime with our Wood Bowl and Board Preserver.
Want to know more about our wood bowl rub?
Did you know that giving your wood bowl a rubdown with some conditioning can actually do wonders for its overall look and lifespan? Here's why:

Firstly, a wood bowl rub is like a shield that protects your bowl from moisture. If water seeps into the wood, it can cause all sorts of problems like warping, cracking, and just general bowl mayhem. No, thank you!

But wait, there's more! A wood bowl rub also has the power to bring out the natural beauty of the wood. Every piece of wood has its own unique patterns and textures, and a rubdown can really make these features pop!

And that's not all - it can also make your wood bowl more durable by helping to repair any scratches or discoloration that may have occurred over time. This means your bowl will be able to stand up to whatever you throw at it (figuratively speaking, of course).

Last but not least, a wood bowl rub can help to keep your bowl safe and clean for all your food prep and serving needs. Wood is naturally susceptible to bacteria and other nasty stuff, but a good rubdown can help to prevent these things from getting into the wood and causing trouble.

So there you have it - your wood bowl rub is a simple but essential step in keeping your bowl in tip-top shape. Happy rubbing!
If you want to add a touch of natural elegance to your dining table, check out our collection of wood bowls - trust us, your salads (and guests) will thank you for it!
Fast UPS Shipping
Orders Ship in 1-2 Business Days
Five Star Service
Fast turnaround on all inquiries
Easy Returns
Your Satisfaction Guaranteed
Local Maine Business
100% Woman-Owned