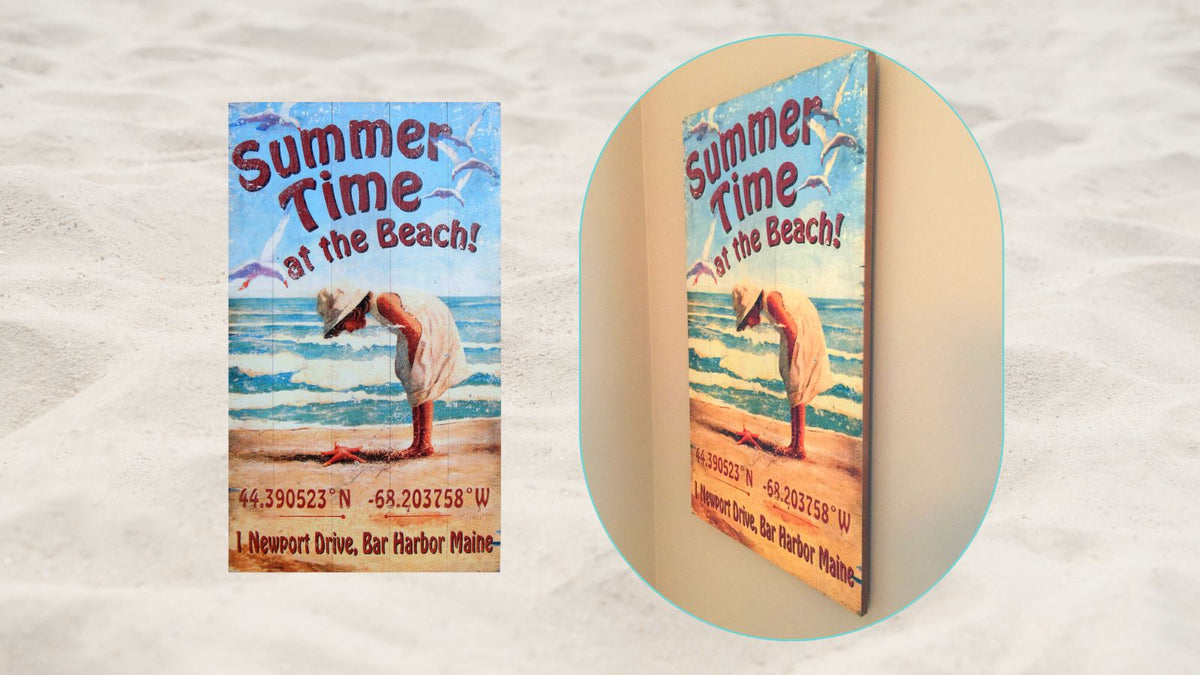 Personalized Nautical Gifts for Beach Lovers
Adding a personalized touch to your nautical gift makes all the difference...


Do you have a hard time shopping for friends who seem to "have it all"?
While it may be tempting to fall back on the typical gift basket or bottle of wine, this year you can shop our list of Top Coastal Gifts that can be customized into true one-of-a-kinds.
We've compiled this list based upon serving thousands of clients who are looking for just that right gift to commemorate a holiday, special anniversary, or housewarming.

These are the personalized nautical gifts that "landed" best (perfect for boaters, lake or beach houses - they're proven seaworthy winners every time!)
Latitude & Longitude Drinkware
The reason this nautical gift tops the list is because of the high number of outstanding reviews this glassware (coupled with laser precise engraving) continues to receive Working with only the best in USA-made crystal-clear glassware, we make sure to engrave your gift exactly the way you want it to look.
"These are beautiful! I made a special request that instead of the city name for the location of our boathouse, they inscribe the name of our rowing club. Result: an astounding memento of our club. The staff was more than willing to accommodate this special request with a prompt reply to my email. Highly recommended." -Linda R.
Whether you are honoring a new lake house or beach cottage address, a wedding location, or favorite vacation spot, you are creating a "memory trigger" that is important to your recipient. You are showing them that you know and understand them.
We recommend double old fashioned glasses for those who love to sip a cocktail slowly and our stemless wine glasses for a more modern or transitional nautical gift. Shop our complete collection here.
Boater-Approved Unbreakable Drinkware
Boaters and their guests love to relax and enjoy a nice beverage while cruising or sailing. Unbreakable drinkware is a must - but that doesn't mean they should use cheap, single-use plastic or paper. Upgrade their experience with our Unbreakable Acrylic line - top quality co-polyester acrylic that won't break, crack, or melt.
Engineered to be as crystal-clear as glass, it's holds an engraving just as well as glass, but is shatter-resistant. This exceptional made-in-the-USA material is perfect for rough waters and smooth sailing alike. Our best-selling nautical gifts in the Unbreakable line is our Stemless Wine Glasses and Double Old Fashioned Glasses.

"These were a gift for a friend of mine who was moving to a sailboat. He was thrilled with these acrylic wine glasses. I was amazed how well the personalization/etching was." -Christy C.
You can choose to engrave a nautical image plus your choice of text, or the latitude/longitudes coordinates of their favorite place.
Or do something completely original:
"They followed my instructions exactly and they look great. Couldn't be happier."
-Joan G.
Vintage Style Wood Plank Beach Signs
Nostalgic seaside signs are always trending in coastal decor because they add warm texture and vintage charm to a room.

Personalizing them for a nautical gift just takes them to a whole other level. You can add specific latitude & longitude coordinates (as always, we will find those for you once you provide an address), cottage names, last names... whatever seems right for your gift recipient.
"I absolutely love my sign. It's awesome! Great customer service as well!"
-Delores J.
The most popular occasion to give this type of gift is housewarming (especially when the house is in a coastal area - lake or ocean) but we have a lot of people just buying it for themselves to decorate their beach or lake house. The muted colors and distressed finish just tends to work well in coastal farmhouse settings.
A Day at the Beach Personalized Ceramic Coffee Mug
For all beach bums and ocean lovers, this coffee mug that will transport them straight to the sandy shores every time they take a sip. Crafted from high-quality ceramic, this beach-inspired mug is a thoughtful nautical gift for your fellow sea-obsessed friends and family as they sip their morning coffee, tea, hot chocolate, or even soup!
And if you want to make it extra special, you can even personalize it with a family name or a favorite phrase - our exclusive design is vibrantly printed on both sides.
Fast UPS Shipping
Orders Ship in 1-2 Business Days
Five Star Service
Fast turnaround on all inquiries
Easy Returns
Your Satisfaction Guaranteed
Local Maine Business
100% Woman-Owned