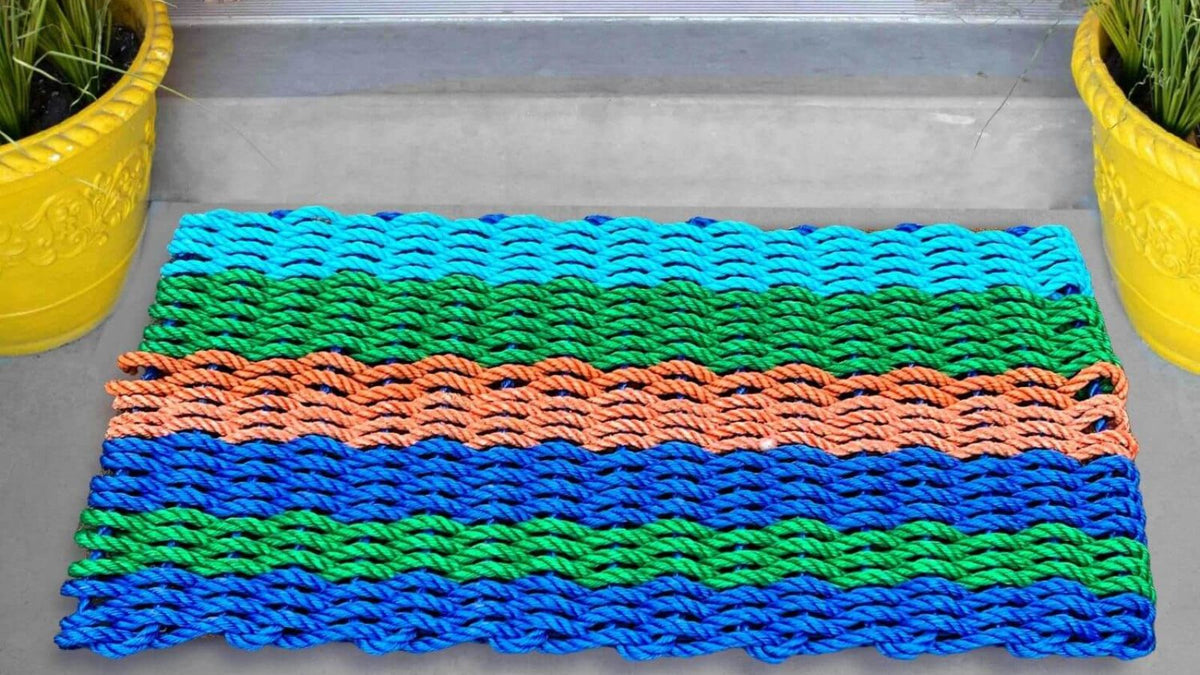 Second Quality Lobster Rope Doormats Available Again - Limited Quantities
They're back! Our popular "Second Quality" Lobster Rope Doormats are once again for sale at tremendous savings. What makes a doormat a "second"?
We cull through each and every Lobster Rope Doormat to find those that best meet the expectations, we present for our #1 quality doormats. Those that don't quite match (perhaps there is less variance in colors, there may be a strong pattern, size may be a tad off, or rope a bit more frayed) are put in our #2 collection. 
About once or twice a year, we photograph each #2 Lobster Rope Doormat and offer them at great savings. They're still outstanding quality - long-lasting, durable, and handwoven from authentic fishing rope strong enough to tether traps in the ocean.
What you see is what you get: because we photograph each #2 mat, you get to select the exact Lobster Rope Doormat for your home. But, don't delay - there is only 1 available each and we sell out very quickly.
What Are Lobster Rope Doormats?
Lobster rope is a super strong, long-lasting polypropylene and polyethylene rope used to keep lobster traps tethered in the ocean. It's also often used for heavy-duty tasks like towing, docking, and carrying heavy loads. But it also makes for some seriously awesome weatherproof outdoor mats.

This marine-grade commercial fishing rope is designed to withstand even the roughest of waters and most extreme weather conditions. So you can bet your lobster rope doormat will hold up against whatever Mother Nature throws its way.
These doormats are seriously sturdy - they weigh between 7 and 10 pounds each! That's because the nautical lobster rope used to make them is super strong and durable. Plus, the way it's woven catches dirt and sand like no other, so your lobster rope doormat will always look clean and fresh.
And here's another really cool part - lobster rope is actually engineered to be mildew and mold resistant, so it won't ever rot or get gross. Plus, it dries super quickly, which is important when you're dealing with the harshest weather.

And since lobster rope is built to last, you can trust that it'll stay strong and intact no matter what. So when you weave it into an outdoor doormat, it's the perfect way to welcome guests to your home - even if they're covered in sand, snow, salt, or dirt.
Even though it's tough as nails, a lobster rope doormat is actually super easy to clean! All you have to do is lift it up and give it a good shake or hose it down right at your door. No harsh chemicals or cleaners necessary. 
Check them out today - perhaps there's a perfect Lobster Rope Doormat for your doorstep?
Fast UPS Shipping
Orders Ship in 1-2 Business Days
Five Star Service
Fast turnaround on all inquiries
Easy Returns
Your Satisfaction Guaranteed
Local Maine Business
100% Woman-Owned