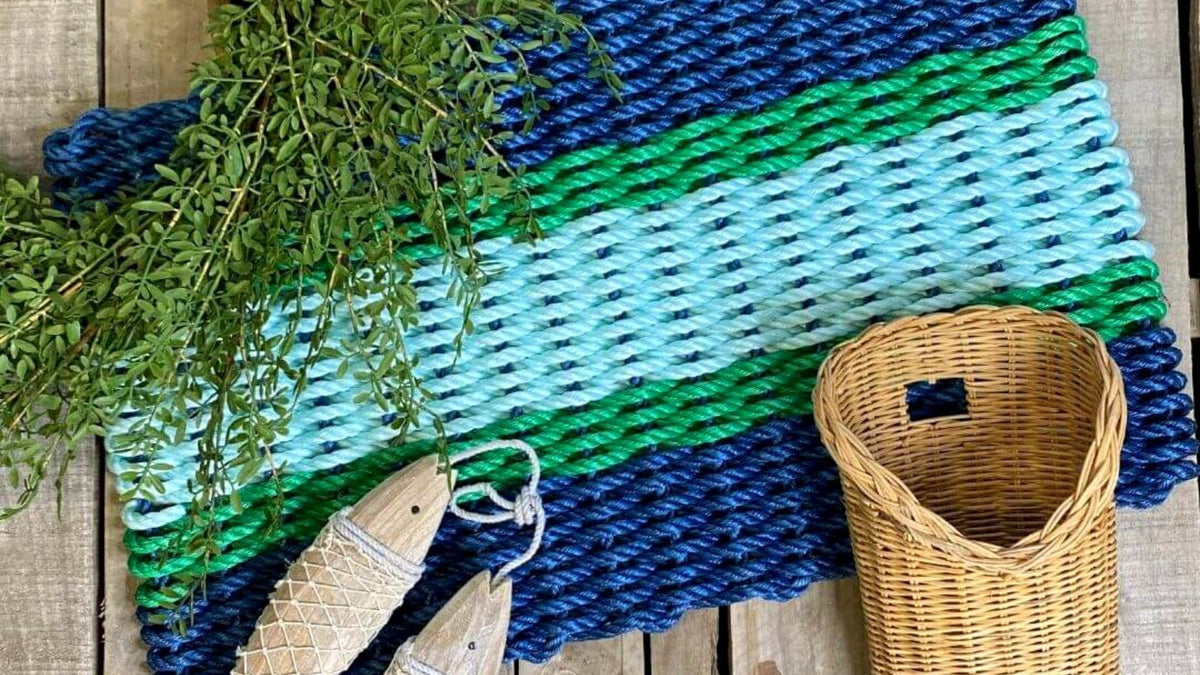 From Sea to Doorstep: Eco-Friendly Journey of Lobster Rope Doormats
What is your eco-friendy number? If you don't know, you're definitely in good company. Honestly, who cares about numbers? Instead let's focus on the small changes we can make to create a healthier, cleaner world.
First, the biggie. The one we all know about. Plastic bags!

Each plastic bag you use that later goes to landfills increases the carbon footprint of that landfill exponentially.

In Maine, plastic shopping bags are illegal. You have to bring your reusable bags. 
You know what? They work BETTER than plastic bags. You can fit more, they are easier to carry, and you don't have to feel guilty later when you dispose of them.
Another way to reduce your carbon footprint is to opt for products made of recycled materials.

One of our best selling items is perfect for your personal footprint - a recycled lobster rope doormat!
What Are Recycled Lobster Rope Doormats?
These recycled lobster rope doormats are handwoven in Maine using a delightful array of scrap rope and recycled lobster rope that was once used to tether buoys to lobster traps in the sea.

Each lobster rope doormat is unique, woven from the rope available at the time. Variations in color and design only make lobster rope doormats more special. It's like having a work of art right at your doorstep! 
Plus, these outdoor doormats make great coastal gifts and conversation-starters, as they are a true piece of Maine history.
Using lobster rope doormats is a sustainable solution to prevent this nautical rope from ending up in landfills. Lobster rope is engineered to withstand tough weather conditions such as sun, sea, salt, rain, water, and ice, making it an excellent material for outdoor use. 
These recycled lobster rope doormats are tough, durable, and long-lasting, weighing approximately 7 pounds, making them perfect for heavy traffic areas.
Or, if you prefer new items, consider shopping quality over quantity.
Fast fashion has a significant impact on the environment. According to the UN Environment Program, fast fashion is the 2nd biggest consumer of water and is responsible for 10% of global carbon emissions.
Even more, low-quality fast fashion can be a serious waste of your hard-earned money. Higher quality items often save you more money over time.
Our Wicked Good Lobster Rope Doormats are engineered to last for years, and look beautiful the entire time. 
Martha Stewart recommends replacing your doormat twice a year - but if you bought a Wicked Good Lobster Rope Doormat, you could be saving yourself from purchasing 10-20 or more doormats.

Cleaning these Lobster Rope Doormats is super easy - simply shake them off or hose them down right at your door.
By using either recycled or new lobster rope doormats, you're not only contributing to a sustainable future but also supporting local artisans in Maine. 
It's a small step towards a greener world, but it makes a big difference. So, why not add a touch of color and character to your doorstep while also helping the planet?
You may not think that one person can make a difference in the world, but when you think of it, one person makes just one change and tells others about it so they can make the change too. That makes two or more people making a difference in the world around them. That one small change can grow into more changes by each person that can continue to grow into a significant change for all of us.
Remember, "great acts are made up of small deeds" (Lap Tzu). We really can make a difference on our own.
Fast UPS Shipping
Orders Ship in 1-2 Business Days
Five Star Service
Fast turnaround on all inquiries
Easy Returns
Your Satisfaction Guaranteed
Local Maine Business
100% Woman-Owned