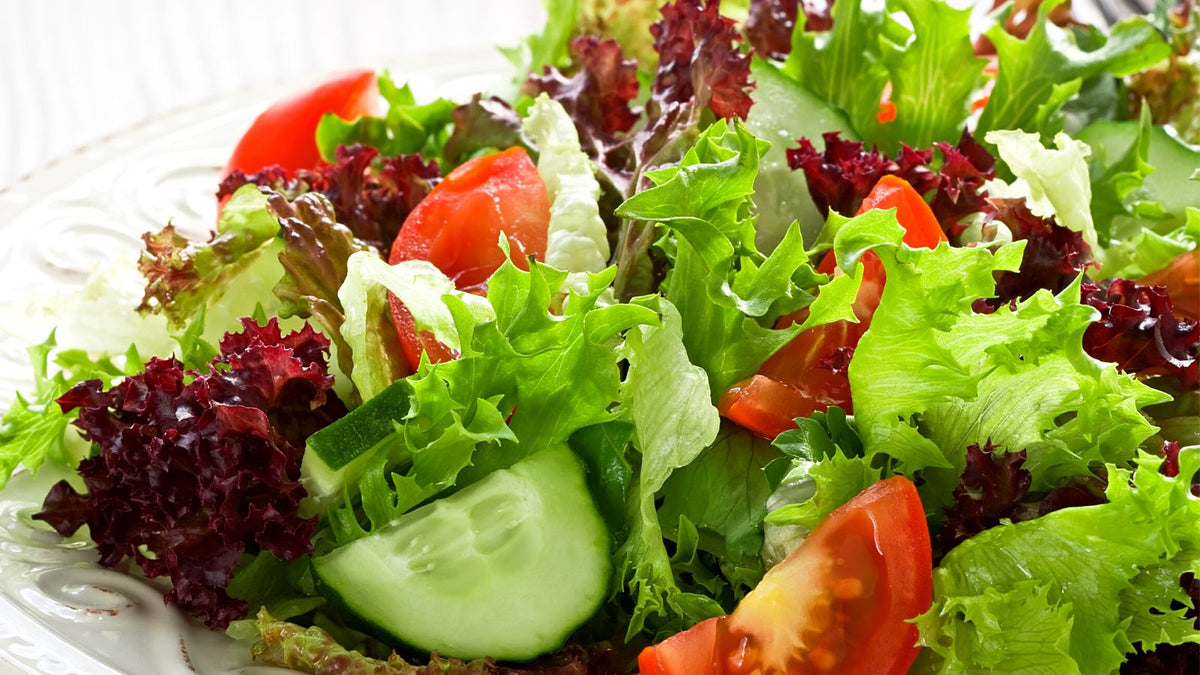 How To Make The Best Italian Chopped Salad
Imagine all the delicious flavors of your favorite salad all in one perfect bite. Chopped salads are the secret. Stop trying to spear lettuce, tomato, onion, and cucumber onto your fork all at once.
Instead, you can learn how to make a your favorite Italian Chopped Salad in less than 10 minutes!
(Want to make a chopped salad in 2 minutes, though? I've done this in a pinch and no one will know... Order the Italian Garden Salad with Light Italian from Pizza Hut, toss it in a 12" Chopping Bowl and use a sharp mezzaluna to chop it into small pieces. Lettuce, green peppers, onions, pepperoni, and salami all in one yummy bite).
Ahem... now for those who want the full chopped salad experience…
Pick your greens (or reds).
A top choice for chopped salads is usually crispy romaine or leafy greens plus iceberg mix but any of them alone will do just fine. Red cabbage adds beautiful color and flavor.
Preparing for just yourself? Grab a prepackaged salad mix with lots of variation, texture, and color. As for portion size, remember that chopping will take volume from your greens so be generous with your helping.
Now we add the veggies.
For the best chopped salad, you'll want green and red peppers, red onions, and cherry tomatoes. Plan about ½ cup to ¾ cup for each serving – you can just add them to your bowl unchopped.
So, for example, cut off a few slices of green pepper, add a couple slices of onions, grab handful of tomatoes. Just toss them all into your bowl.
Stick to just 1 "soft" veggie (like tomatoes) to avoid the salad getting too mushy once it is chopped.

If you want a vegetarian salad, you're all set.
For a richer Italian salad, add 4-5 slices of pepperoni and salami per serving. Next, toss in a 1/8 cup of grated parmesan per serving.
Toss a few black olives in, if you have them.
Now it's time to chop!
Grab your mezzaluna (a curved handle makes it easier to hold and makes quick work of the chopping) and glide it over your ingredients. Keeping the blade on the bowl, continue to change the angle and glide it over the unchopped ingredients.
After rotating completely around the bowl, toss the ingredients around and repeat the process one more time. Two times around should be enough to get just the right consistency, but if you want an even finer chop, go around again.
As you make more and more salads, you usually will find your own rhythm that works best for you.
Next, toss your salad with a light Italian vinaigrette
For chopped salads, creamy will work fine, too, for those with that preference.
You can make your own with olive oil, vinegar, and seasonings. Dress your chopped salad with 1 – 1.5 tablespoons dressing per serving, being sure to keep it light and avoid drenching it. A soggy salad will not do!
Want to go a step further?
Grab 2 plum tomatoes, a slice of red onion, ¼ cup fresh basil, 2 Tablespoons oil, and 2 cloves garlic minced.
Toss the tomatoes, onion, and basil into a 9" hardwood chopped salad bowl and use your mezzaluna to create a diced bruschetta (add some fresh rosemary if you have it, too).
Toss with the garlic and oil and let it sit for 5 minutes. Top a fresh piece of crusty bread with this delicious tomato blend and enjoy with your newly chopped Italian salad.
Refrigerate the unused bruschetta. The rich garlic and herb flavors will continue to infuse the vegetables.
If you want to take your salad game to the next level, try chopping your ingredients in our wooden chopping bowls with an extra sharp mezzaluna. Trust us, once you try it, you won't want to go back to your old ways.

Our wooden chopping bowls are beautiful and incredibly practical. And when paired with our easy-to-grip mezzaluna, you'll be able to chop your ingredients with ease, speed, and precision. You'll wonder how you ever managed without it!
Fast UPS Shipping
Orders Ship in 1-2 Business Days
Five Star Service
Fast turnaround on all inquiries
Easy Returns
Your Satisfaction Guaranteed
Local Maine Business
100% Woman-Owned