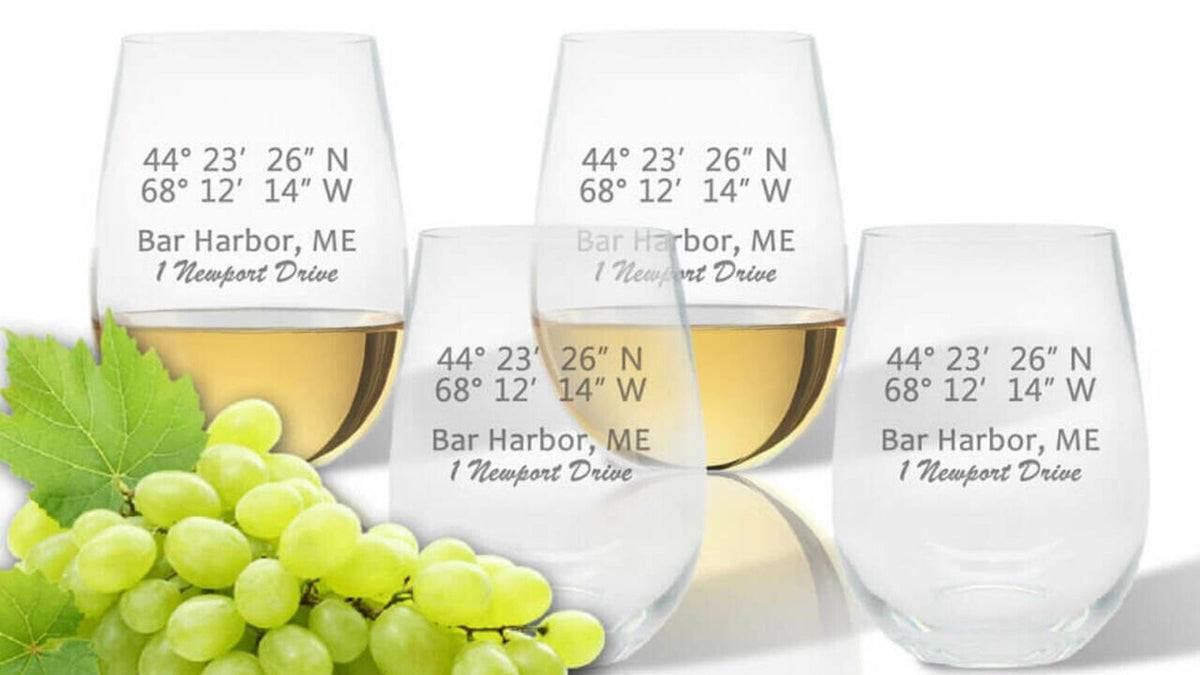 Ready for Summer: Boater Approved Unbreakable Acrylic Glasses
This year we are excited to add a whole new angle on our expanding line of personalized glassware: unbreakable high-grade acrylic with a decidedly nautical theme.
Now you can enjoy top quality acrylic glasses without the upkeep of, well, glass! Great for the patio, poolside, and even golf course (wink).
Acrylic glasses look just like glass...until you drop it.
Want to serve your guests outdoors? When everything has to look just so you may be tempted to use your indoor glasses. 
We all know that plastic beverageware can appear cheap (especially when those little wine stem bases fall off - oops!).
Now with our upscale acrylic glasses, you can have the best of both worlds. This BPA-free acrylic is engineered to be better than glass, stainless, and regular plastic. 
Each shatter-proof piece is crystal clear with the brilliance of glass.

Available in the ultra-gift friendly stemless wine glasses and double old-fashioned glasses (it just seems that everyone has some type of favorite drink that works in these vessels).
Retains luster and gloss after repeated dishwashing
Don't you hate when glassware gets cloudy? Our unbreakable acrylic glasses will retain its clarity even after repeated dishwashings. You'll use them for years to come.
And, a word about dishwashing...
Dispel those rumors about high grade acrylic glasses being fussy in the dishwasher - all you need to remember is to wash them on a normal cycle. Acrylic is acrylic... it will be affected when temperatures soar to high degrees. So you can skip the Pots/Pans, Ultra Hot, and Steam settings, and save a little energy too. 
Remember: Just wash your acrylic glasses on Normal settings. Easy.
Durability is unmatched
I recall one dinner party I threw where every guest broke at least 1 wine stem. I don't know what was in the air that night, but I was sweeping up glass shards every few minutes.
It became a joke, really, and now I suspect more than a couple breaks may have been preventable... hmmm... but I digress. The point is, that's a lot of lost wine! 
Never again. All my al fresco dining will now include this line of unbreakable acrylic glasses.
Nautical designs with precision customized engraving
Choose from our timeless nautical designs - anchor, sailboat, compass rose, and more. Then, personalize it up to 2 lines.
Personalize your acrylic glasses with latitude & longitude coordinate engraving
Celebrate a new home or special engraving with our lat/long design. Just give us the address and we'll do the rest. Our acrylic glasses will be customized with your unique GPS coordinates.
Made in the USA
Every piece is made and engraved in the USA. You can count on its quality and workmanship.
"So pleased with these personalized acrylic wine glasses. They're so pretty and very durable. I love that they're uniquely ours. Perfect for a glass of wine, or two, on our boat, watching the sun set. Cheers!" - Lorie H.
Fast UPS Shipping
Orders Ship in 1-2 Business Days
Five Star Service
Fast turnaround on all inquiries
Easy Returns
Your Satisfaction Guaranteed
Local Maine Business
100% Woman-Owned