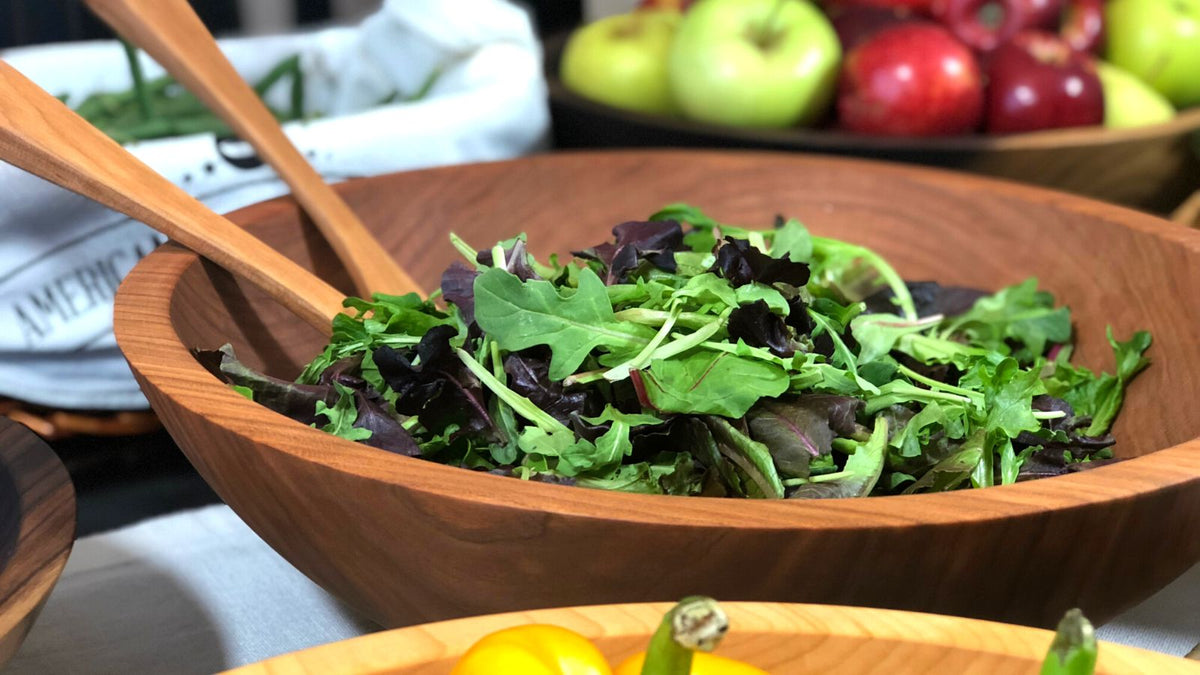 The Beauty of Made in the USA Wooden Bowls
Why Buy Made in USA Wooden Bowls and Products?
"Made in America" is a statement that addresses more than geography. "Made in America" is a promise of quality, and an expectation of excellence that is ingrained in the work ethics and skills of the American worker.
While there are many reasons why customers "Shop American," their desire for quality goods certainly heads the short list of reasons for most consumers, as does their yearning for a distinctly American product.
The essence of the American spirit is one of uniqueness, and when Americans buy unique gifts, including wooden bowls, made in the USA, they are tapping into a reservoir of manufacturing excellence.
Made in America: Quality Wooden Bowls
We have all seen the uneven quality of knock-off foreign wooden bowls lining the shelves of discount retailers, and their quality suffers by comparison when placed against an American-made product. As such, it is easy to see where these imports get their savings.
The old adage, "You get what you pay for," is an old adage because it is true however, and when you purchase handmade wooden bowls in the USA, you know that you are paying for the very best product that stores have to offer.
Responsible Manufacturing
American workers not only craft unique gifts, they also create unique opportunities for responsible manufacturing processes. Unlike other manufacturing nations in the world, our factories operate in ways that are much cleaner for the environment than those practices of many other countries.
Eschewing the dangerously polluting practices of many developing nations, American companies are determined to leave a cleaner planet along with their superior consumer product.
Not only do American production processes seek to leave a diminished carbon footprint on the planet, they're also committed to delivering a safe product into the hands of consumers.
Safety standards in foreign manufacturing plants are notoriously low, and the media is replete with stories of tainted toys making their way into the kitchens of unsuspecting American families.
Why Buy Made in The USA Wooden Bowls?
If you are shopping around for unique gift ideas, then you should be shopping for wooden bowls made in the USA to ensure that your product captures the essence of the American spirit, and does so in a sustainable way that protects our planet and protects our families.
Wooden bowls made in the USA are crafted from high-quality, sustainably-sourced hardwoods, and American wood bowl makers take their environmental responsibilities seriously and use eco-friendly practices in their manufacturing processes. 
By choosing American-made wooden bowls, you can be confident that you are making a responsible choice for the environment.
When you choose a wooden bowl made in the USA, you can help preserve the American cultural heritage and traditional woodworking techniques. This can help to keep these skills and techniques alive for future generations.
Fast UPS Shipping
Orders Ship in 1-2 Business Days
Five Star Service
Fast turnaround on all inquiries
Easy Returns
Your Satisfaction Guaranteed
Local Maine Business
100% Woman-Owned