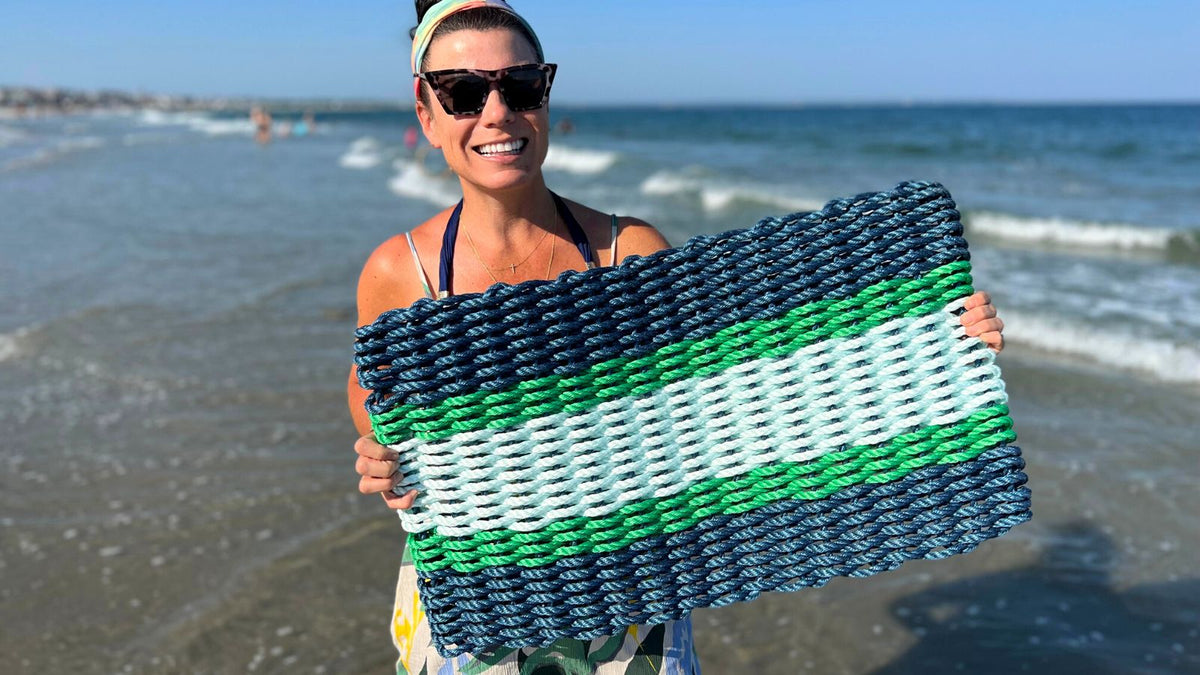 The Best Outdoor Mats Around: All About Lobster Rope Doormats
What Is Lobster Rope And Why Is It Used For Outdoor Door Mats?
Lobster rope, also known as nautical rope, is long-lasting marine-grade fishing rope that is used to tether lobster traps in the ocean. It is the best material for outdoor doormats because it is engineered to stand up to extreme weather conditions.
Making the perfect outdoor door mats, lobster rope is ready to take on the sun, sand, snow, salt, and dirt. It's also mildew & mold resistant, won't ever rot, and dries very quickly. Each doormat will last for years.
The use of Lobster Rope for doormats actually came about by a stroke of luck, or perhaps just old-fashioned ingenuity.

Back in 2009 the state of Maine made floating lobster rope illegal to use in certain waters, as it was entangling whales. Fishermen were given vouchers to buy new, sinking rope, when they turned in their old lobster rope. 
Rather than letting all the used rope end up in landfills they were woven into beautiful welcome mats instead.
Aside from being a creative fix to cleaning up the leftover rope, Lobster Rope Doormats have become a helpful solution as fishermen continue to turn in their rope, providing an eco-friendly outlet for this repurposed material that can be used over and over.
New rope is also used in Lobster Rope Doormats, giving you greater flexibility in choosing styles and colors.
Different Types of Lobster Rope Doormats
Discover the main difference between Wicked Good and ColorWave Lobster Rope Doormats:
Why Lobster Rope Is Best For Outdoor Doormats
The marine-grade commercial fishing rope used to weave all of our Lobster Rope Doormats is weatherproof - specially engineered to hold up to sun, salt, & water.
The best outdoor doormat is always one that is designed to withstand rain and humidity yet dries very quickly. Each Lobster Rope Doormat is mildew and mold resistant, breathable even in the most extreme weather, and do not retain odors.
UV protection has also been added to these outdoor rope mats to prevent fading. Over time, all rope fades, but these mats stand the test of time while retaining its charm and durability.
Why People Love Lobster Rope For Their Front Door Mats
a. Color and Quality - these are the top two reasons we hear as to why our customers love our Lobster Rope Doormats. Each mat is woven from high-quality nautical rope and we have so many beautiful cheery colors -- they transform your front door and instantly add curb appeal. Plus, their quality is unmatched.

b. Easy to clean - welcome mats made of Lobster Rope are super easy to clean. The doormat's unique weave captures dirt and sand but does not hold it. This means that your doormat will not become clogged with dirt after long use - just lift and sweep away dirt. You can also just shake it off or spray it down right at your front door. You will never have to use harsh cleaners or chemicals again. Lobster rope dries very quickly, making it the perfect material for outside doormats.

c. No soggy doormats - our Lobster Rope Doormats will not stay soggy nor will they harbor bacteria and insects like other doormats. That means they will never start to take on odors as is so often the problem with other doormats.

d. People get tons of compliments - because our Lobster Rope Doormats bring a distinct touch to your front door, our customers have shared with us the compliments they have gotten over the years. You see, this nautical doormat can work for everyone. Not just for coastal homes, lake houses, and cottages by the beach, these long-lasting mats can complement any style and decor.

e. Heavyweight and extra strong - our Lobster Rope Doormats weigh 7-10 lbs each so they stay right in place on non-skid surfaces.
Fast UPS Shipping
Orders Ship in 1-2 Business Days
Five Star Service
Fast turnaround on all inquiries
Easy Returns
Your Satisfaction Guaranteed
Local Maine Business
100% Woman-Owned