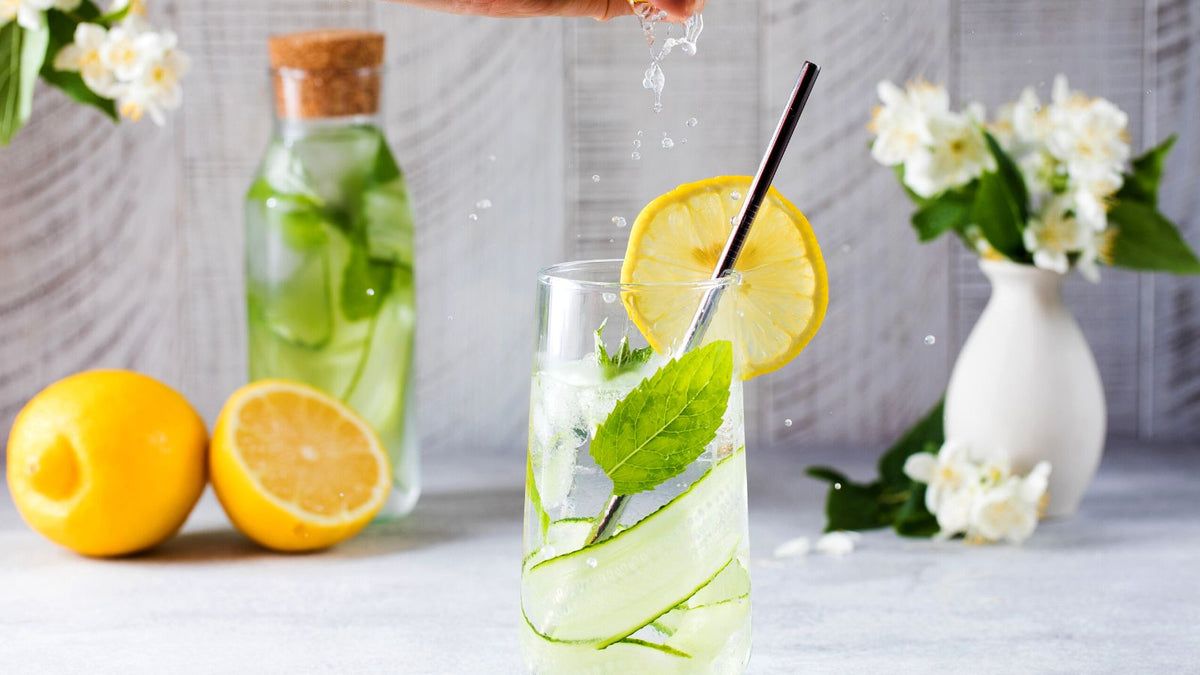 5 Refreshing Chilled Water Drinks to Invigorate You!
We've all heard the advice that to stay properly hydrated, we need to drink eight 8 oz. glasses of water every single day. Some days that advice is easy to follow. Other days... well, let's just say that water can be a bit boring, right?
Want some inspiration? Here are 5 chilled water ideas + 1 bonus to keep you going:
Lemon Cucumber Chilled Water
Mix 1 gallon of cold water with 3 slices lemon and 3 slices cucumber. Chill in a large pitcher for 15 minutes. A chilled water recipe that keeps you cool, hydrated, and feeling fabulous.
Citrus & Mint Water
Fill a 1 quart pitcher with fresh cold water, 1 lemon sliced, 2 limes sliced, and 1/2 cup mint leaves. Let it infuse for a day before drinking. Stir this chilled water mix regularly.
Blueberry Orange Detox Water
Mango Ginger Water
1" ginger root peeled and sliced and 1 cup fresh mango mixed with liters of water. Infuse for 1 day before serving. This chilled water recipe packs a tropical punch!
Kiwi Blackberry Water
1 cup fresh blackberries with 1 sliced kiwi, mixed with 2 liters. This refreshing chilled water drink will transport you to a beachy paradise with just one sip.

And for those of you who are more adventurous, try this unique Chia Seed Coconut Water.

For the most flavorful water, allow your infused creations to chill for at least 3 hours before serving. The flavors will be enhanced the longer you let them sit. You can usually refill the water when your pitcher gets to 1/4 full at least one time - stronger flavors last for 2 refills. It's the perfect chilled water mix whether you're just lounging by the pool, running errands or even hitting the gym.

Bonus Trick to drinking more water every day: elevate the experience with unique wine glasses. There's just something about sipping from a beautiful stemless glass that makes eight 8 oz glasses of water...easier to swallow. :)
Unbreakable Drinkware for Chilled Water Recipes
We all know how important it is to stay hydrated, especially during hot summer days. And what's better than sipping on a refreshing glass of chilled water while lounging outdoors? 
But let's be honest, traditional glasses can be a bit risky when it comes to outdoor activities.

That's why we've got the perfect solution for you: our unbreakable acrylic glasses! Not only are they stylish and sea-inspired, but they're also shatterproof and durable, making them the ideal choice for outdoor entertaining.

But wait, it gets better! Our acrylic glasses are also perfect for serving up your favorite chilled water recipes - whether you're in the mood for infused water with fresh fruit, a zesty lemonade, or a cooling cucumber water.

So, why settle for plastic cups or risky glassware when you can sip in style with our unbreakable acrylic glasses? Perfect for lounging by the pool, picnics in the park, or just enjoying a lazy day in your backyard, these glasses are a must-have if you love entertaining outdoors.
Trust us, your taste buds and your peace of mind will thank you for it!
Fast UPS Shipping
Orders Ship in 1-2 Business Days
Five Star Service
Fast turnaround on all inquiries
Easy Returns
Your Satisfaction Guaranteed
Local Maine Business
100% Woman-Owned