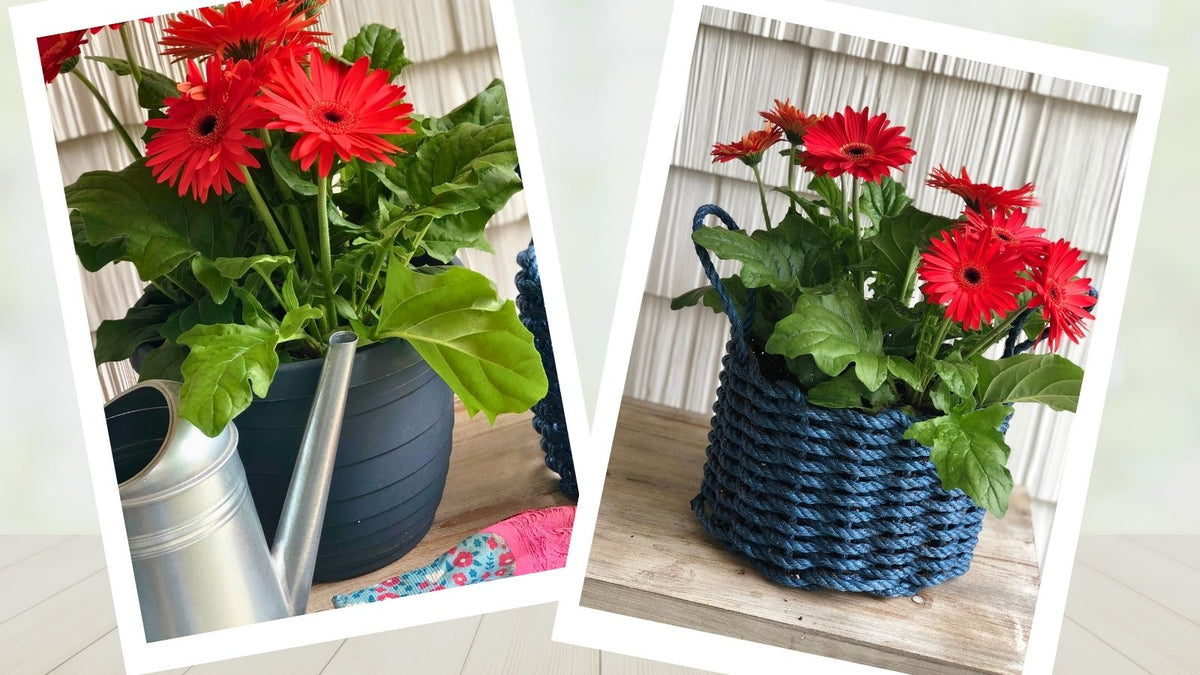 DIY Lobster Rope Basket Nautical Planter
I've refreshed my doorstep with 2 already by potting a gorgeous bright red Gerbera Daisy in a solid navy basket and an interesting Hosta in a solid silver. They go perfectly with my Wicked Good Lobster Rope Doormat!
There are so many fun ways to use these Lobster Rope Baskets - as a towel holder, for your keys or magazines, a beach picnic... They just add that touch of quality nautical decor that fits your home or cottage, plus there are so many vivid colors from which to choose.
Each Lobster Rope Basket is handwoven from the same long-lasting blend of new polypropylene and polyethylene rope used in our doormats. 
Built to withstand the ocean's harsh elements, it's tough, heavyweight and resistant to water, mildew, and mold. For that reason, they make excellent planters! Mix and match them to your heart's content and watch your home come to life.
Tip: Don't forget to pair them up with our Lobster Rope Doormats for a welcoming vibe that's impossible to miss. Trust us, your guests will be impressed. Check out these super cool outdoor doormats here.
Check out the video below for quick Lobster Rope Basket tips. Your plants will thrive in them because the loops in the basket provide natural drainage (I always overwater). Water will run through them keeping the soil moist but not wet.
Looking for more coastal decor that works beautifully with Lobster Rope Baskets? Here are some good places to get more ideas:
Fast UPS Shipping
Orders Ship in 1-2 Business Days
Five Star Service
Fast turnaround on all inquiries
Easy Returns
Your Satisfaction Guaranteed
Local Maine Business
100% Woman-Owned