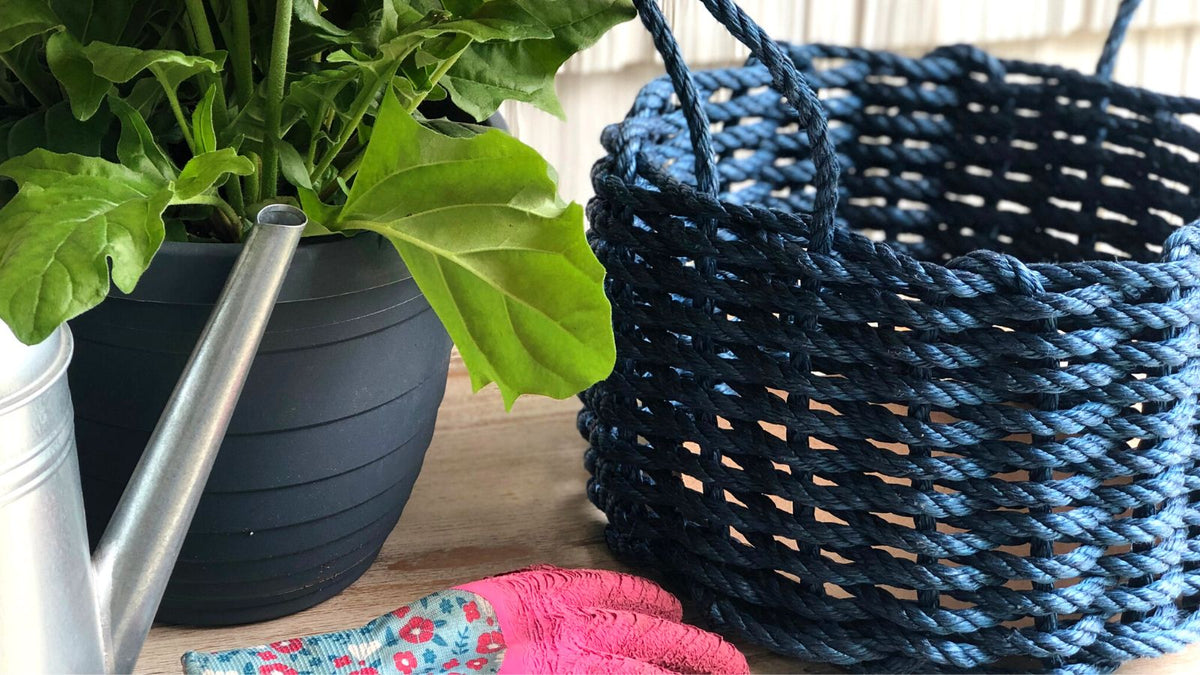 New Spring Decorating Ideas: Lobster Rope Basket Flower Pot
Welcome, springtime enthusiasts! As we shed our winter coats and embrace the warmer weather, it's the perfect time to add some vibrant color to our homes. 
And what better way to do so than with some Lobster Rope Baskets? These delightful rope baskets brighten up your living space while becoming your next favorite practical storage solution. Here's an easy pick-me-up for those of us who are ready for spring color.
We took a Lobster Rope Basket and inserted its circular base (this is a standard base that arrives with all baskets and helps maintain the basket shape).
We then stuffed it completely full with newspaper so that the polypropylene rope would stretch into a nice circle. This step lets the flexible rope mold into the circular shape you want, since the basket usually ships flat. Let it sit for about 1 hour.
Next, we discarded the newspaper to the recycle bin, grabbed a potted tulip plant (which is showing up in stores right about now) and simply placed it inside.
Voila! Instant spring with a nautical twist.
Since Lobster Rope Baskets are naturally mildew, mold, and water resistant they make a perfect flower pot. Just be sure you protect the surface where you place your basket.
Tip: You can also spray a water resistant sealer on the circular base for even more protection. Or ditch the base, fill the Lobster Rope Basket with good soil, grab some seeds, and use it as your outdoor table planter this year!
Why Customers Love Our Lobster Rope Baskets
They're the ultimate outdoor planters for anyone who loves a splash of color. And the best part? Water flows right through them, so no more soggy planters or rotting roots! Plus, with their tight weave and sturdy handles, you can move your precious plants and flowers around with ease. 
And the fun doesn't stop there - these baskets are perfect for creating indoor and outdoor herb gardens, too! 
Want to make your front porch pop? Mix and match these amazing rope baskets - trust us, our coastal chic baskets are the perfect pairing for your Lobster Rope Doormats - together, they make for an entrance that's both warm and welcoming, and totally unforgettable
So go ahead, get your green thumb on, and add some love coastal charm to your outdoor space with these beauties.
Fast UPS Shipping
Orders Ship in 1-2 Business Days
Five Star Service
Fast turnaround on all inquiries
Easy Returns
Your Satisfaction Guaranteed
Local Maine Business
100% Woman-Owned