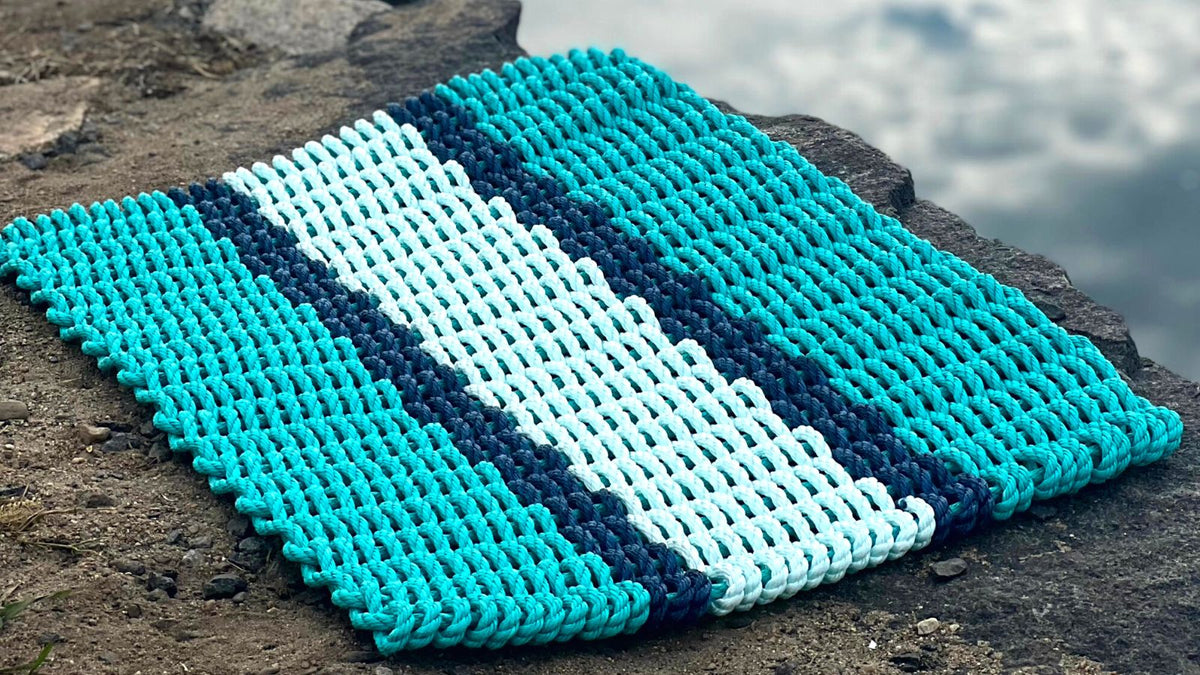 Lobster Rope Doormat Color of the Month is...
Lobster Rope Doormat Color of the Month is... Teal, Navy, Seafoam!
The contrast of the teal and navy (which brightens in direct sunlight) gives it depth enough to work on either a white door or against something more daring. It cheers up a concrete slab or a white-washed, weather worn deck.
It's fun to experiment with color when it comes to this Lobster Rope Doormat - a pop of yellow, a splash of poppy red - whether it is with your door color, wreath, or potted flowers (which look great in a Lobster Rope Basket) - this doormat makes it fun to switch accessories out.
Why Choose Lobster Rope Doormats?
A true testament to Maine's finest craftsmanship, our doormats are handwoven and made to last with extremely tough polysteel fishing rope. And guess what? This is the same rope that fishermen use to secure their lobster traps out at sea. No wonder it can withstand Mother Nature's harshest elements - water, salt, snow, sand, sun, and wind. 
If you're tired of stepping on a soggy and smelly doormat every time you come back home, worry no more! With our Lobster Rope Doormats, you can say goodbye to mildew, mold, and bad odors. These outdoor doormats dry so quickly that they will always stay fresh and ready to welcome you and your guests.
Our Lobster Rope Doormats use specially engineered Marine Tech Fibers that are colorfast, vibrant, and have added UV protection, making these nautical rope doormats both beautiful and functional for years.
Plus, Lobster Rope Doormats catch dirt and let it pass through easily. They're simply perfect for your front door because they last longer and are super easy to clean. All you need to do is lift them up and sweep away the dirt - it's that simple! Thanks to their unique "Catch and Release" design, Lobster Rope Doormats keep looking great even after years of use

They're so Wicked Good!
If you love teal (like we do!), check out more Lobster Rope Doormats below:
Fast UPS Shipping
Orders Ship in 1-2 Business Days
Five Star Service
Fast turnaround on all inquiries
Easy Returns
Your Satisfaction Guaranteed
Local Maine Business
100% Woman-Owned