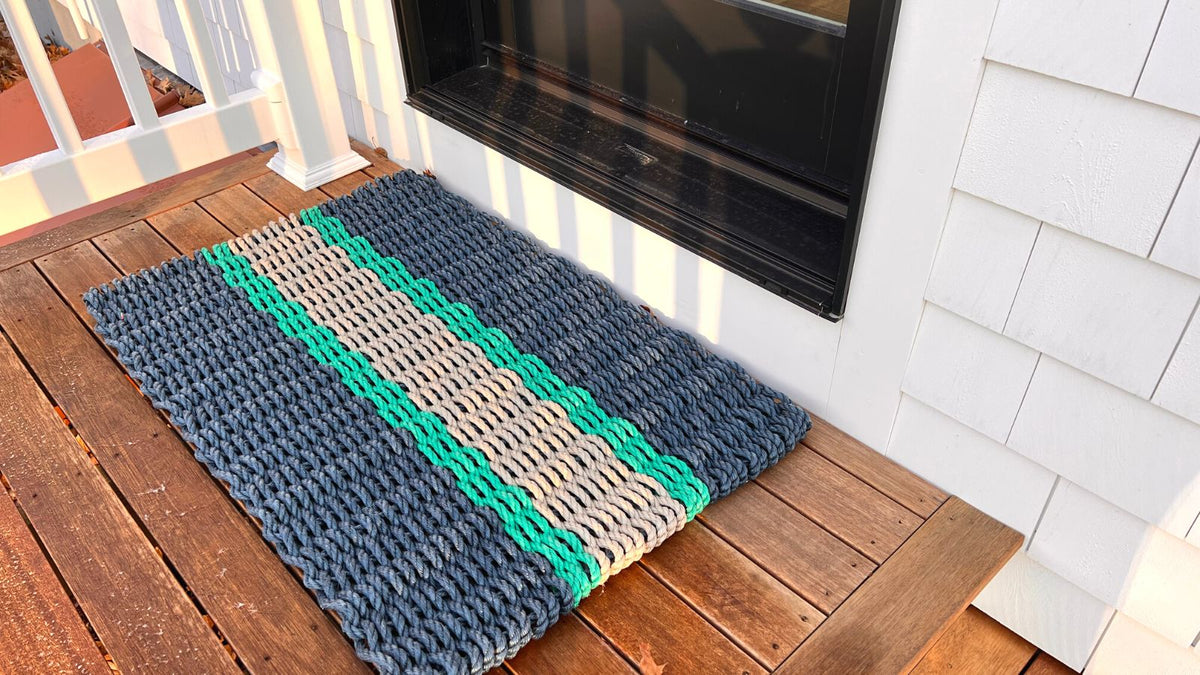 Outdoor Doormats: Substance or Style? Enjoy Both!
Soon mud season will be upon again. This year, fight it head on with a durable and tough outdoor doormat designed to trap all the dirt and snow you want to keep out of your home.
Fortunately "rugged" and "long-lasting" no longer mean boring black rubber or bristly brown! Now you can display a pop of color on your step and still enjoy all the must-have features of a hard-working mat.
Lobster Rope Doormats (also known as Nautical Rope Doormats) are handwoven from a mix of extremely tough polyethylene rope used by fishermen to tether their lobster traps together in the ocean.
The ropes come in a variety of shades from ocean blues to deep green, bright yellows and oranges, deep reds and even pink. You can also find lobster rope in interesting earthy tones like brown, light tan and dark tan. 
The Only Rope Trusted by Maine Fishermen
No fishermen wants to risk losing his catch of the day. The only rope they'll trust has to be completely weatherproof, water-resistant, mildew-resistant, odor-resistant, and has to be super durable and long-lasting. It must stand up to the harsh ocean elements.
When you buy a Lobster Rope Doormat, you get the benefits of a mix of super durable polyethylene rope: this outdoor doormat will last for years, will hold up under rough weather, will not take on an odor or dampness, and will be easy to clean and fast-drying.
Even better, all of our Lobster Rope Doormats are handwoven and individually inspected for quality. It can take up to an hour to weave just one. The weavers take special pride in producing some of the highest quality woven outdoor doormats you can find. 
Forget What You Know About Outdoor Doormats
If you've purchased a rope doormat before you may have the impression that they are floppy, or lightweight. Most of the ones we've found on the market actually are a bit too flexible and soft to stand up to real traffic.
Lobster Rope Doormats are the exception.
These hardworking outdoor doormats are actually quite heavy - weighing up to 10 lbs each. Our 18" x 30" rope mats are 6 to 7 lbs. while the 24" x 36" weigh 9 to 10 lbs.
They can bend but they are much stiffer than most rope mats, lending their durability and ability to stand up to heavy use. They are firm to the touch and you can easily see the rope is of a thicker gauge than many other mats.

All of these great benefits AND you get to have a colorful, warm welcome on your doorstep (not to mention people love to comment on them - they're a stand out).
Here's a quick guide to selecting the best outdoor doormat for you:
Wicked Good Lobster Rope Outdoor Doormats
If you love the ocean, beach, or anything coastal, you'll love these Wicked Good Lobster Rope Doormats woven in nautical colors. From bold, bright stripes to classic, timeless hues, these outdoor doormats work great year-round - feeling beachy in the summer and popping out in bright color against the whites and grays of winter. Available in 2 sizes: 18" x 30" and 24" x 36". Each is approximately 1" thick.
Wicked Good Lobster Rope Baskets
Also check out the coordinating Lobster Rope Baskets, which are great planters, garden caddies, decorative baskets, and overall catch-alls. They pair beautifully with the Lobster Rope Doormats for an eye-catching entrance.
ColorWave Nautical Rope Outdoor Doormats
Our ColorWave nautical rope doormats showcase a beautiful wave pattern woven from two ropes that evoke the gentle motion of the ocean. These outdoor doormats are available in a range of eye-catching nautical hues as well as warm earth tones. Although more pliable than our Wicked Good Doormats, they are still highly resilient, resistant to mildew, and built to last in harsh weather conditions. We currently carry 18" x 30", 21" x 34" and 24" x 38".
Recycled Lobster Rope Outdoor Doormats
Rich in history, our Colors of Maine doormats are woven from used lobster rope that would otherwise be in landfills. They feature multiple colors woven together and no two are ever the same. So unique, this is the most talked about Lobster Rope Doormat we carry and is always a #1 best selling gift. We currently carry 18" x 30" and 24" x 36". They are approximately 1" thick.
Our mats arrive with a tag describing the mat and its rope, and all of the great benefits of using a Lobster Rope Doormat.
Note: We recommend using all our outdoor doormats on non-skid surfaces only (or you can get a non-skid rug pad to hold them in place).
Fast UPS Shipping
Orders Ship in 1-2 Business Days
Five Star Service
Fast turnaround on all inquiries
Easy Returns
Your Satisfaction Guaranteed
Local Maine Business
100% Woman-Owned