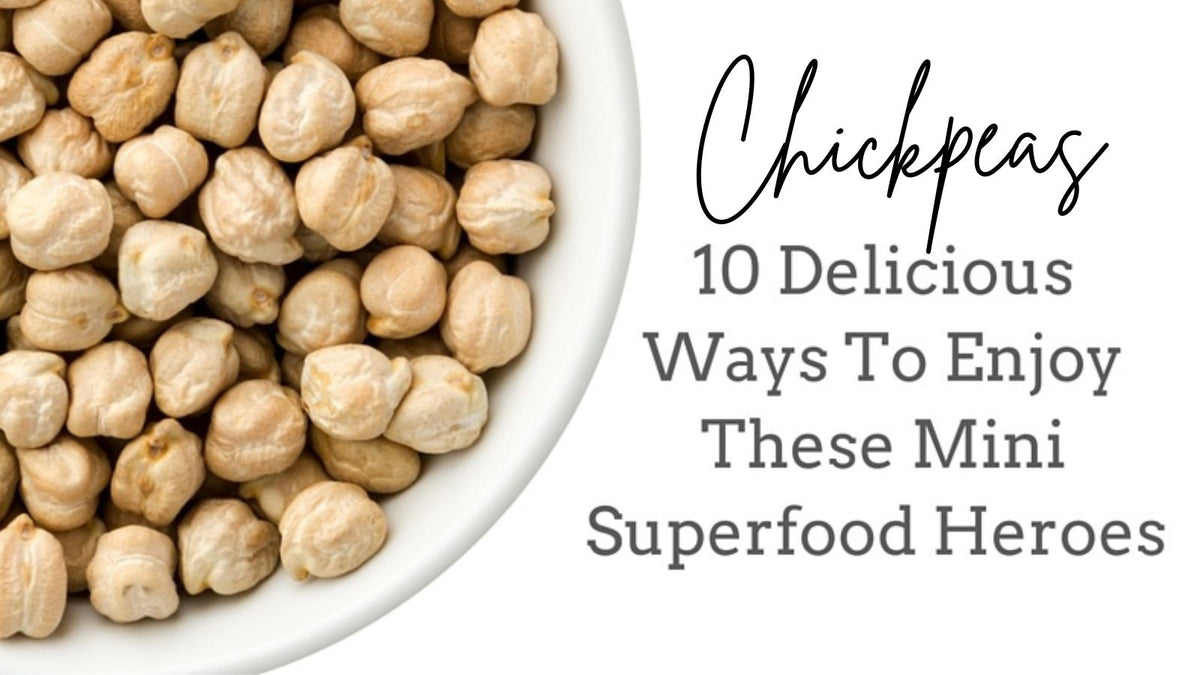 The Chickpea Way: 10 Amazing Ways To Enjoy This Superfood
With evidence that chickpeas, or garbanzo beans, help you feel more satisfied and consume fewer calories, they're on everyone's shopping list.
Filled with protein, folic acid, and fiber, you just can't get enough of them. Or maybe you can...? 
Variety is the spice of life, so here are 10 fun recipes to help you keep the love for chickpeas.
Chickpea Chopped Salad
Tossed with fresh veggies, almonds, olive oil, lemon juice and feta cheese, this salad recipe is one you'll want to serve again and again. Cut your prep time in half by tossing all the ingredients to be chopped in a hardwood chopping bowl, and use an extra sharp mezzaluna.
Spicy Roasted Chickpeas
Smashed Chickpea Avocado Sandwich
Tasty and filling, this chickpea avocado sandwich is so high in fiber you'll be able to glide through the 3 pm slump! Scallions, lemon, celery, and feta and dimension to this tasty lunch treat.
Chopped Chickpea Greek Salad
With a multitude of flavors in every perfect bit, you just can't get enough of chopped salads. Try this Greek version with kalamata olives, feta, and fresh red, green, & yellow peppers.
Healthy Sesame-Orange Ginger Chickpea Stir-Fry
A meat-free stir fry that only costs about $8 to make. At just 248 calories a serving, this lip-smacking dish is a win-win.
Chocolate Chip Chickpea Blondies
An egg-free, gluten-free, low in calories, rich in omega-3s, deliciously sweet way to hide superfood garbanzo beans in your kid's dessert. Brah, ha, ha, ha, ha, ha, ha!
Moroccan Spiced Chickpea Soup
Pasta with Chickpeas and Garlic Sauce
Mediterranean Chickpea Patties
Beet Hummus
Yes, Beet Hummus. Calls for beets, tahini, garlic, lemon, cumin, salt and pepper. It's a shocking purple concoction that gets everyone talking. So rich in antioxidants it makes sense to eat beets regularly. And, when you eat a superfood-chickpeas-meets-superfood-beets hummus you just may feel like donning a cape!
If you're looking to add some delicious and healthy chickpea salads to your diet, then you simply must try them in a wooden salad bowl. It will keep your salads fresh and crisp, and they also make for a beautiful presentation that's sure to impress your dinner guests.
Fast UPS Shipping
Orders Ship in 1-2 Business Days
Five Star Service
Fast turnaround on all inquiries
Easy Returns
Your Satisfaction Guaranteed
Local Maine Business
100% Woman-Owned