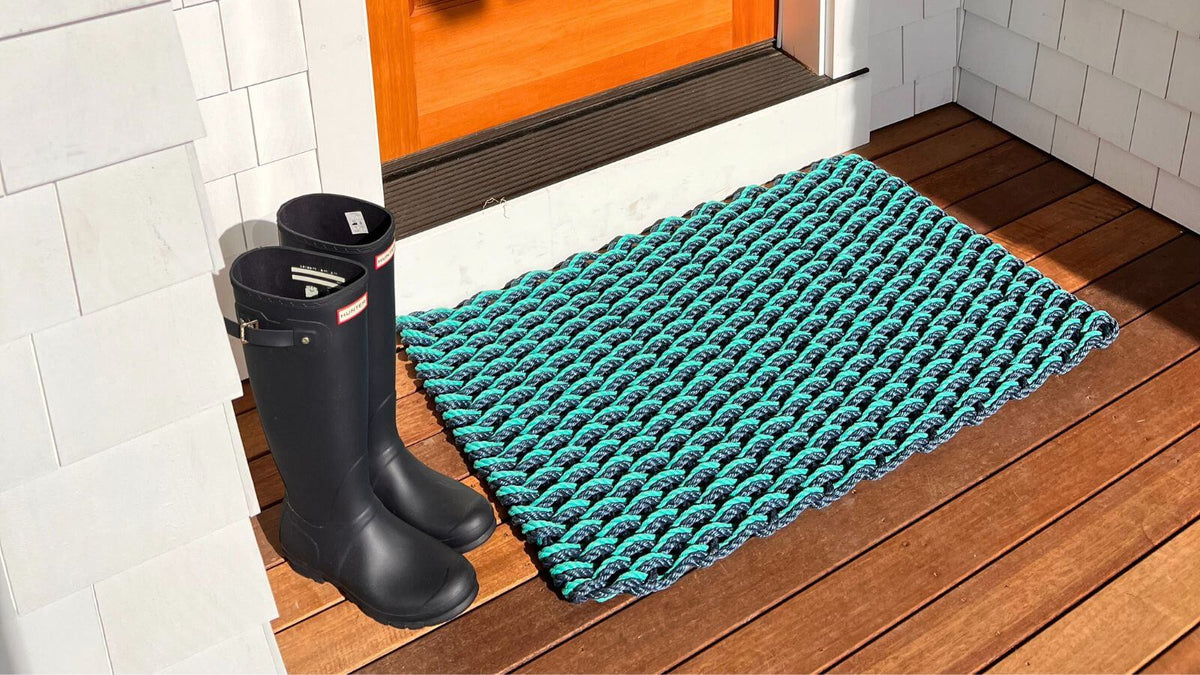 Wicked Good Lobster Rope Doormats: Top Selling Outdoor Doormats
Are you tired of constantly replacing your outdoor doormats from one season to another? Our Wicked Good outdoor doormats made from marine-grade lobster rope are loved by our customers for being the perfect solution for any entryway. 
Handwoven from long-lasting polysteel lobster rope, our Wicked Good Lobster Rope Doormats are weatherproof and fast-drying, plus they're super easy to clean and will last for many years to come. And with a wide range of colors available - from fun and friendly to classic and timeless - you're sure to find an outdoor doormat that will perfectly complement your home.
Marine-Grade Rope - Lobster Rope is engineered to last for years


Handwoven from nautical rope designed to tether lobster traps to buoys in the sea, this seaworthy polysteel rope is the best material for an outdoor doormat because it stands up harsh ocean elements.
Weatherproof - Lobster Rope tackles sun, salt, sand & water
Fast-drying Lobster Rope will never mildew or mold - say goodbye to soggy doormats! Plus it will never take on an odor. To clean, just hose it down at your door!


Outstanding Performance - Lobster Rope catches mud and dirt like no other
The raised weave design paired with the rope's strength catches the dirt and mud before it enters your home. Just lift and sweep away. Sand and dirt pass through the weave so your doormat never gets weighed down. To wash simply hose off right at the door. This fast-drying rope will be like new in no time!


Handwoven in Maine - Impeccable attention to quality
Each Lobster Rope Doormat is handwoven one at a time on the coast of Maine using special looms. Available in over 20 bright, cheerful colors that will make your front door stand out in the neighborhood.

Colorfast
The gorgeous, vibrant color on Lobster Rope Doormats never transfers to your surfaces, regardless of whether they are wet or dry. Plus added UV protection helps keep your color bright.  
Mildew-resistant
Lobster Rope Doormats don't take on odors like other outside doormats because they are naturally resistant to mildew and mold. Plus, they do not harbor insects. A perfect solution for your outdoor mat!


Check out our collection of Wicked Good Lobster Rope Doormats today!
"I absolutely love these highly durable hand-made lobster rope mats!! I now own 3!! They withstand the NE Ohio winters and still look beautiful come spring. The new sand color is simply my favorite color. Thank you for what you do... it matters."
Amelia D.
Oct. 26, 2021
"Best door mats you can buy! 
Very nice door mat! I purchased two a couple of years ago for our home and now have purchased more for our lake house. Love the variety of colors available and how durable they are."      
Elaine A.
OCT 5, 2021
"SO pleased by this find!!! I did a little research and learned about the type of material an outside doormat should be made from, and in my research came across this company! I highly recommend this product and company!"
Karen E.
Sept. 25, 2021
"Just what we needed! The rug is perfect for the exterior doors at our southern coastal home! It is heavy duty and the colors are beautiful!"
Ellen B.
Jan. 22, 2021
Top Lobster Rope FAQs - discover what makes these top selling outdoor doormats so popular, and why yours will last for YEARS not just a season:
Fast UPS Shipping
Orders Ship in 1-2 Business Days
Five Star Service
Fast turnaround on all inquiries
Easy Returns
Your Satisfaction Guaranteed
Local Maine Business
100% Woman-Owned