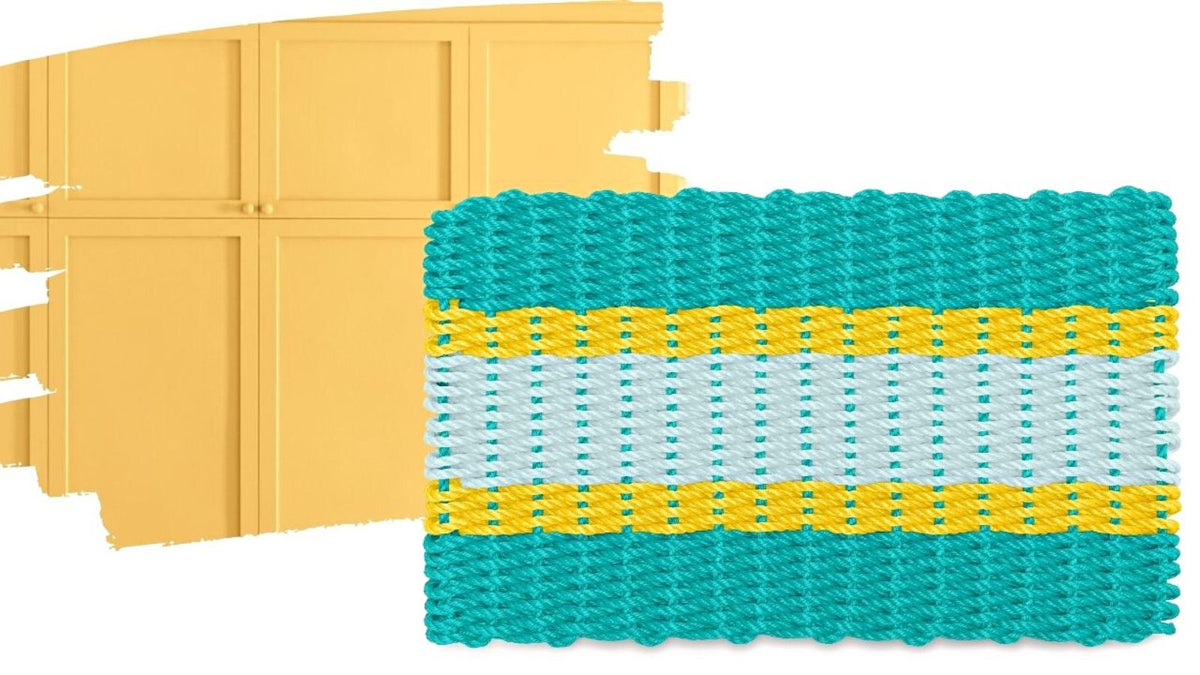 11 Outdoor Doormats to Pair With Valspar's 2022 Colors of the Year
When Valspar announced its 2022 Colors of the Year, we couldn't resist pairing the calming shades with our Lobster Rope Doormats for a warm & inviting entrance.
Here are 9 outdoor doormat color pairings for the perfect sea-inspired front door:
1. The cool-leaning shade of green in Blanched Thyme works beautifully with our Navy, Green and Seafoam Lobster Rope Doormat for a refreshing style and calming vibe.
2. Keep it bright and playful when combining yellows from Valspar's Delightful Moon with the pop of yellow in our Teal, Yellow and Seafoam outdoor doormat. The layering of these colors creates a happy and hopeful vibe.
3. A Solid Navy Blue nautical rope mat, combined with the soft purple shade of Lilac Lane, evokes the memory of hydrangeas and effortless summer charm.
4. Cool and crisp, Mountain River's deep blue shade paired with a Navy and Silver Double Weave outdoor doormat creates the ultimate coastal combo.
5. This Black and Dark Tan Double Weave front door mat and the modern shade of Grey Suit creates a clean look for any home.
6. If you love neutrals, the Gilden Linen's minimalist white hue pairs beautifully with our Nautical Rope Doormat in Light and Dark Tan Double Weave for a soft and cozy look.
7. This cool shade of Orchid Ash creates the perfect backdrop for our fun Beachy Vibes outdoor doormat.
8. The clean, crisp Orchid Ash paint color is also a perfect match for our crisp Navy, Teal and Silver outdoor doormat, too!
9. Cozy and comfortable as a latte, this nautical rope doormat in Brown and Light Tan blends beautifully with warm Country Charm paint color.
10. Finally, striking a bold contrast between this light colored Solid Tan outdoor doormat against the dark Fired Earth shade. A timeless pairing that will bring drama to your front door year-round.
11. For another option, Fired Earth paint color works also contrast beautifully with our Tan and Black striped outdoor doormat.
Fast UPS Shipping
Orders Ship in 1-2 Business Days
Five Star Service
Fast turnaround on all inquiries
Easy Returns
Your Satisfaction Guaranteed
Local Maine Business
100% Woman-Owned