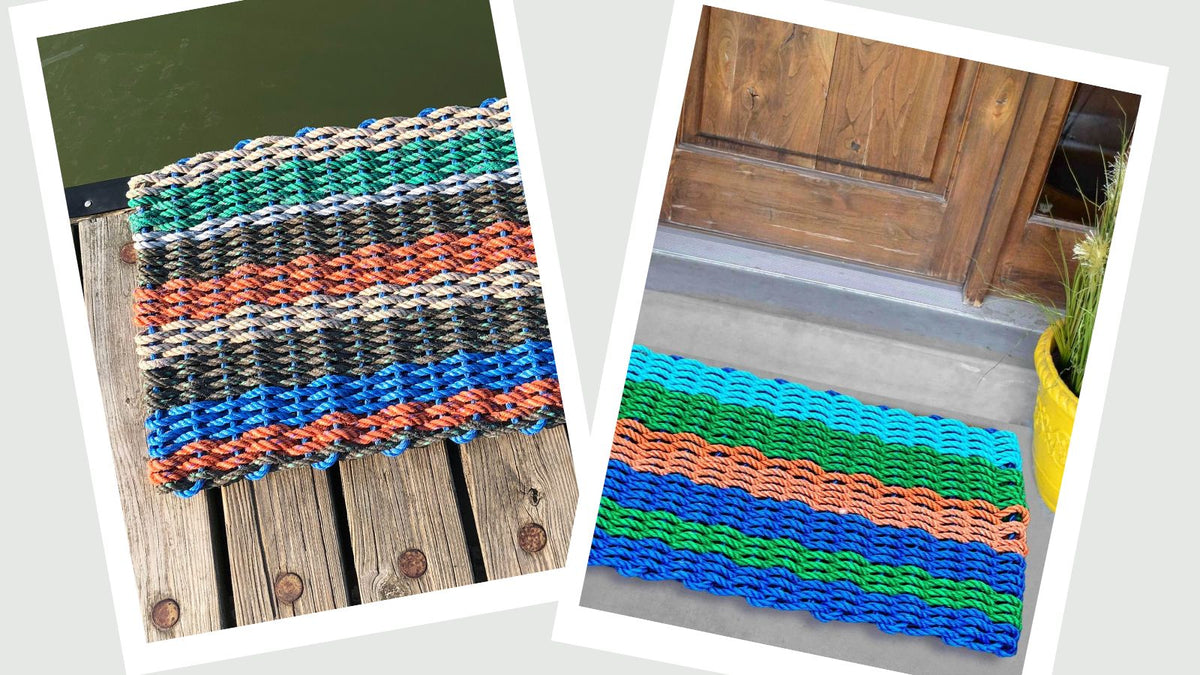 Eco-Friendly Outdoor Doormats: Perks of Recycled Lobster Rope Doormats
The eco-friendly movement in America is in full swing. Many people now consider ethical and sustainable products and production processes for their homes over simply finding the most convenient or cheapest option...
Recycled doormats are an often overlooked addition when considering a move to more sustainable home options. The modern market features various eco-friendly and recycled doormat options, and one of the best environmentally-sound selections is the recycled lobster rope doormat from The New England Trading Company, made from sustainable materials (recycled and reclaimed lobster trap rope).

These doormats keep hundreds of thousands of pounds of lobster rope out of the landfill, repurposing the solid and durable material to create something beautiful that can reside in your entryway for years to come.
How are Lobster Rope Doormats Eco-Friendly?
An eco-friendly doormat is simply one that relies on ethical, sustainable production processes that don't harm the environment with toxic chemicals. Eco-friendly solutions like The New England Trading Company's recycled doormats use sustainable materials that last for years, helping ease the plethora of waste added to landfills.
Moreover, you can rely on eco-friendly door mat options working just as hard as traditional ones. They help you complete any property entry space while preventing dirt, debris, mold, and moisture from entering your home. A recycled lobster rope doormat combines authentic lobster rope and leftover scrap rope that resist mold, mildew, and other common coastal allergens.

Although many sustainable doormats can offer these features, the unique artisan weave in lobster rope doormats allows dirt and debris to pass through, so users can simply lift and clean beneath the mat easily. The durable materials don't hold in moisture and debris, so the doormat never gets weighed down and will never mildew, mold and take on odors.

We can consider recycled doormats using lobster rope eco-friendly because our team crafts them from recycled materials using a meticulous handweaving process.
Buying the Right Eco-Friendly Lobster Rope Doormat
New England Trading Company weavers cull through piles of reclaimed lobster rope, selecting lengths that will add beauty and durability to your outdoor mat. We do reject overly used, dirty, and damaged rope lengths. Be wary of buying a lobster rope doormat from anyone who isn't as picky in selecting rope. You need a weaver with a discerning eye to ensure your mat is just as beautiful and long-lasting as New England Trading Company doormats. 
All of the Lobster Rope Doormats we sell are robust, weather-resistant, and able to  stand up to harsh weather conditions and other elements in the Atlantic Ocean, making it an ideal material choice for a durable eco-friendly doormat solution.
Want to know which Lobster Rope Doormat is perfect for your home? Check out our Outdoor Doormat Buying Guide here.
Suitable for the Environment
What are most homeowners likely to do when a doormat starts to fray and fall apart after enduring some inclement weather? Some may find a way to recycle their mat, but many just toss them out. 
New England Trading Company produces lobster rope doormats from recycled and reclaimed fishing rope that would otherwise end up in landfills or the ocean.
Lobster fishermen use pot warp ropes to connect lobster traps to buoys. Unfortunately, when fishermen discard them, these leftover lobster ropes are sent to landfills or end up in the ocean, where they can impose harm on local marine life.

What is one person's trash is another's treasure. Reusing these ropes in our recycled doormats gives these materials new life while keeping them out of the waste stream. Our artisans work to keep these materials out of our waterways and landfills by cultivating unique, beautiful, sustainable doormat solutions for homeowners.
Sustainable Solutions
The materials we depend on to produce our recycled lobster rope doormats are long-lasting, hard-wearing nautical ropes that last for more than a season, so you can use your doormat over and over again, and won't have to replace it in the years to come.

Our artisans handcraft our doormats in a relatively simple process that doesn't require heavy machinery or significant energy expenditure. We at The New England Trading Company take pride in our efforts to reduce our carbon footprint by making reclaimed doormats that last for years.
Good for Local Economies
Consumers purchasing recycled and reclaimed lobster rope doormats support local fishermen and their communities. Many of these coastal lobster fishermen operate on a small-scale, running family-owned and operated businesses that rely on traditional and sustainable fishing practices.

Supporting these communities promotes sustainable and responsible use of resources both in produce and material resourcing.
They'll Withstand Anything Your Entryway Can Throw at Them
Lobster rope's original and primary purpose is tethering lobster traps to buoys in the Atlantic Ocean. Manufacturers produce this rope material to face every type of rough ocean weather. 
Lobster traps (and the rope affixed to them) withstand sun, rain, ice, thunderstorms, salt, and the Northern Atlantic current. The material stares down this onslaught all day, every day, without breaking or losing its trap. Lobster rope can easily handle some dusty shoes as visitors enter your home.
And They'll Look Great Doing It
The New England Trading Company produces recycled and reclaimed lobster rope doormats using a hand weave process that features leftover scrap rope interwoven with rope pulled from the ocean. As such, we cannot predict the specific rope shades or colors we'll receive, enabling us to create unique, one-of-a-kind designs featuring twisted rope.

Recycled lobster rope doormats provide a creative and stylish addition to virtually any porch or entryway with a touch of coastal charm with a durable, reliable, and eco-friendly product.

Finally, The New England Trading Company believes we can do our part in reducing ocean plastics. For this reason, your purchase helps support some non-profit organizations we love working with because they remain dedicated to cleaning up our oceans, lakes, and rivers.
Investing in quality products is always a great way to reduce waste in the long run. When it comes to doormats, constantly having to replace yours can really add up over time. That's why Lobster Rope Doormats are a much more sustainable choice - you won't have to keep buying new doormats every year or season because they're simply made to last for years.
Still have questions about our outdoor doormats made from reclaimed nautical rope? Head straight to our "Colors of Maine" Recycled Lobster Rope Doormat collection. 
Looking for more front door mat inspiration? Check out our Wicked Good Lobster Rope Doormat line and all of the reasons why they make the perfect outdoor doormat.
Fast UPS Shipping
Orders Ship in 1-2 Business Days
Five Star Service
Fast turnaround on all inquiries
Easy Returns
Your Satisfaction Guaranteed
Local Maine Business
100% Woman-Owned