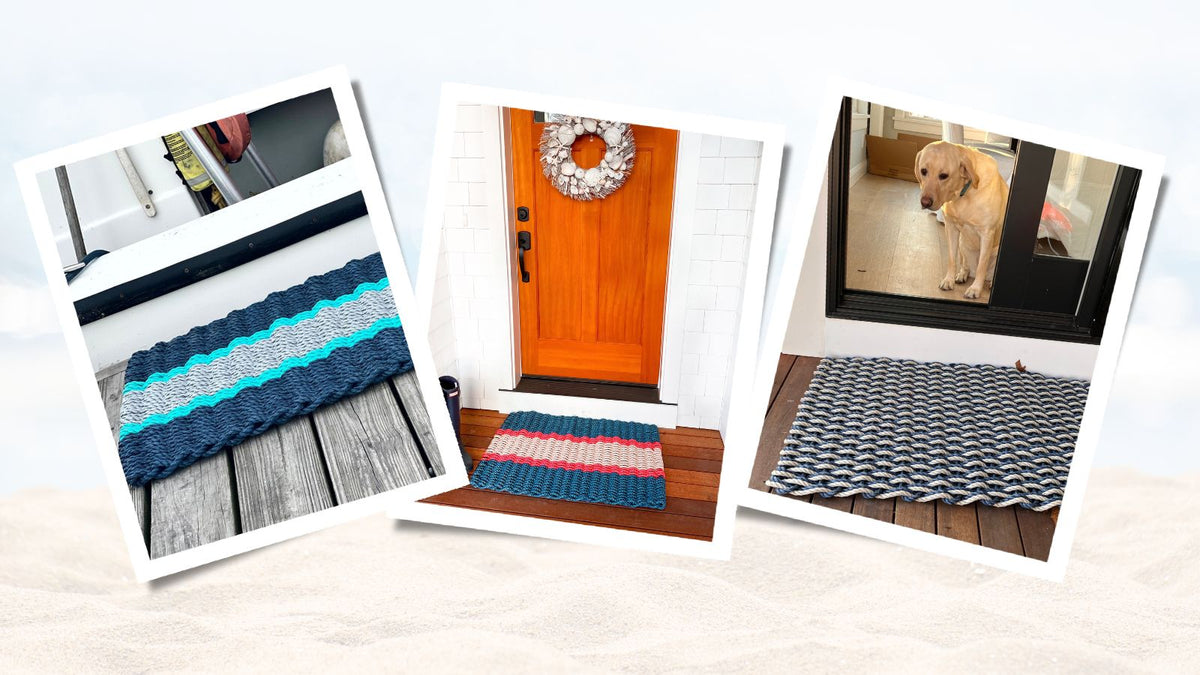 Lobster Rope Doormats: The Perfect Solution for Coastal Homes
We live in a technology era with countless screens and electronic devices all competing for our attention. Coastal designs and their easy-breezy aesthetic can make a home feel more refreshing today than ever before. This style imparts attractive, grounding, calming colors with organic textures that often turn the noise down when residents return home from hectic daily life...
Coastal home design always stays in style, primarily because it's based on natural elements. Although your home and style trends may change over time, coastal styles can easily evolve and adapt to any aesthetic.

A nod to a nautical theme with additions like captain's wheels, decommissioned oil lanterns, boat oars, and coastal door mats made from nautical fishing rope are familiar and fun additions to coastal homes, standing in for traditional artwork for many homeowners.

Your home's exterior can set the tone for the entire attitude of a home's design. A dark and dreary front entryway may rouse grim expectations in first-time visitors, family, and friends. Alternatively, a warm and inviting entrance created by colorful door mats and other decor may transform your home into a desirable getaway.

If you're looking for the best doormat for a beach house or other coastal home, selecting a durable and everlasting beach doormat constructed from tough, weatherproof lobster rope material will provide the solution you need.
Why is Lobster Rope an Ideal Doormat Material?
Manufacturers produce lobster rope, also known as fisherman's rope or pot warp, to withstand the weather, rain or shine, all year long. Lobstermen use this rope material to secure lobster traps to buoys out in the Northern Atlantic Ocean and pull up hundreds of pounds of traps and other lobstering gear from the briny deep.

Coastal door mats made of lobster rope material are unlike any other doormat you'll find in an entryway. They are unique and eye-catching, providing consumers with distinct weave patterns and calming seaside color shades. However, what truly sets lobster rope doormats apart is how they work differently from traditional doormats.
Tough on Dirt, Sand, and Debris | Easy to Maintain
Beach house door mats exist for two primary purposes - maintaining a home aesthetic while providing a welcoming impression and keeping dirt, debris, and moisture at the doorway. Sand seems to be everywhere when you own a coastal home, and keeping it outside can pose a challenge, with guests easily tracking it inside on their shoes.
Coastal door mats trap dirt and sand before they can enter the home, helping to keep floors and entryways clean and free from these unwanted invaders. Moreover, a beach doormat can protect floors from damage by providing a barrier between guests' feet and the floor.
Beach house door mats make homes more inviting and improve the look of the entryway. If you want a mat that keeps out dirt, sand, and debris while adding a touch of elegance, lobster rope material is a great choice.

Lobster rope doormats feature a raised-weave, rugged design, enabling them to catch dirt and debris. Unlike regular doormats, they collect sediment in a different way. Standard doormats gather and hold onto sand and dirt, getting filled up with it. Unfortunately, this means owners have to spend time beating or vacuuming them to remove the dirt and grime.

To keep New England Trading Company doormats clean, you just need to lift them occasionally and sweep away the debris underneath. Lobster mats don't get weighed down with dirt and grime, keeping moisture, mold, and mildew away while drying quickly.
Upcycled, Reclaimed, Sustainable
Many individuals remain attracted to lobster rope doormats because of their unique material composition. The New England Trading Company utilizes materials with legitimate history. Some fishermen and women stake their livelihoods on the same rope that goes into handcrafting a beautiful, functional entryway artwork for your coastal home.

While many customers choose our line of Lobster Rope Doormats using new marine-grade fishing rope, we do have a special line of "Colors of Maine" Recycled Rope Doormats. The lobster rope we use in these outdoor mats is important; pulled from the ocean plus leftover scrap rope, avoiding a growing problem of plastic in the sea and filling up landfills. Our artisans weave the lobster rope into colorfully patterned doormats in a minimal energy consumption and low carbon footprint procedure.

Because we use upcycled materials in our "Colors of Maine" doormat collection, the New England Trading Company cannot guarantee an exact shade or hue when consumers purchase the best doormat for a beach house. Lobster rope comes in numerous lengths and colors, allowing our craftspeople a broad array of choices to create a beautiful mat that can pair with any decor.

Lobster rope doormats are durable, lasting for years, and constructed from heavy-duty, weather-resistant materials with added UV protection. Whether brand-new or recycled lobster rope, The New England Trading Company mats are an excellent choice for people wanting to reduce waste with a sustainable fixture in their homes. Most coastal homeowners will discard multiple outdoor mats in the lifespan of one of our lobster rope material selections.
The Best Doormats for Your Coastal Home
The New England Trading Company doormats are genuine pieces of maritime history pulled directly out of the Atlantic Ocean. Although this rope may no longer wield the strength to haul hundreds of pounds of lobster gear up from the ocean or withstand the tumultuous weather of the Northern Atlantic Coast, the materials remain beautiful, strong, and functional, primed for our team to repurpose them into something extraordinary.
Still curious about what makes our outdoor mats the ultimate must-have for your front door? Explore our line of Wicked Good Nautical Rope Mats and Recycled Lobster Rope Doormats. These woven rope mats aren't just ordinary accessories; they're the champions of your front door, braving all weather conditions while keeping your entryway looking beautiful all year round.
Ready to find the perfect Lobster Rope Doormat for your home? Check out our Outdoor Doormat Buying Guide here. 
Need ocean-inspired accessories that pair beautifully with your nautical doormat? Have a look at these creative ideas on how to create the perfect coastal front door.
Fast UPS Shipping
Orders Ship in 1-2 Business Days
Five Star Service
Fast turnaround on all inquiries
Easy Returns
Your Satisfaction Guaranteed
Local Maine Business
100% Woman-Owned