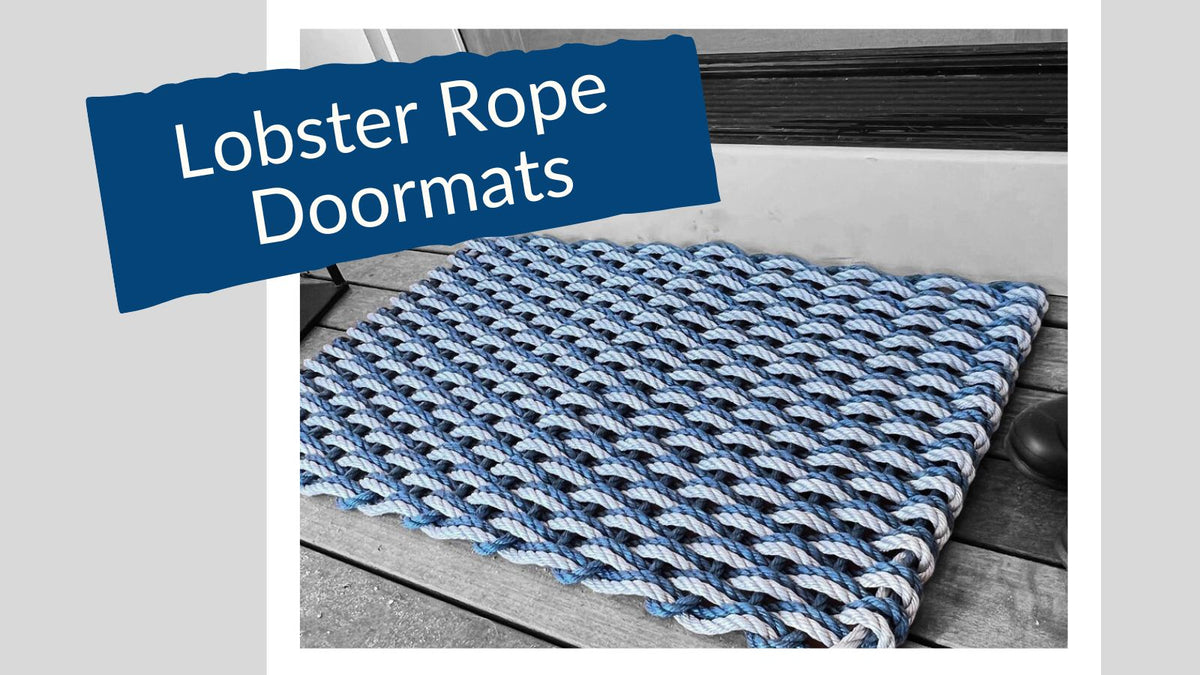 Lobster Rope Mats: A Great Choice for Coastal Homes with Tough Weather Conditions
Coastal door mats take a regular beating from the weather when you live so close to the ocean. Whether they're facing thunderstorms and hurricanes in Miami or Galveston or snowstorms in the winters of Boston, the extreme cold and moisture take their toll. Before you know it, you need a new mat. Or, do you? Read on to find out how to stop replacing your outdoor mat every season…
The goods news is that there are outdoor mats available for coastal homeowners that are ready to handle the worst weather Mother Nature can throw at them, without needing to be replaced constantly: lobster rope mats. 
Lobster rope mats are ideal for coastal homeowners because they can withstand heat, cold, and other prevailing seasonal elements.
If You Live On the Coast, Lobster Rope Mats are For You
Portland, OR, and San Francisco, CA, are notorious for their heavy rain, intense coastal storms, and occasional earthquakes. Then there are cities like Miami, New Orleans, and Galveston, TX, prone to severe hurricanes and heavy rain during hurricane season – which can bring devastating winds and flooding.
In these areas, you can see the best and worst of what mother nature has to offer. If you don't own a heavy-duty mat that can handle muddy feet after a thunderstorm, you'll be spending hundreds, maybe thousands, on coastal door mats.
Why Lobster Rope Mats are Ideal
Your coastal home has a several environmental factors that traditional doormats may not handle well and moisture is the #1 reason most break down. Lobster rope doormats, on the other hand, can withstand water better than any other door mat. In fact, the rope was engineered to last underwater to tether lobster traps together.
Rot and Mildew Resistance
The Original Lobster Rope Doormats, also known as Wicked Good Doormats are woven with lobster rope engineered to be some of the strongest and longest lasting rope around. Our rope is highly resistant to mold and mildew, which means it will not degrade or weaken when exposed to moisture or humid conditions. Unlike other doormats that can trap moisture, lobster rope is fast-drying so it doesn't get soggy or bogged down. In addition, these doormats have an open weave that allows air to circulate better and water to evaporate. 

Even if these outdoor doormats get wet again and again, they will dry very quickly and won't ever grow mold and mildew, and will never harbor unpleasant odors.
Coastal homes experience freezing temperatures and hot, humid days. Your coastal door mats are going to need to be able to handle lots of moisture if they hope to stand a chance at survival.
UV Resistance
Treated with up to 6x's more UV protection than traditional fishing rope, our Lobster Rope Doormats are you best bet for bright, sunny coastal areas.
 
Coastal areas experience lots of sunshine, so you want your mat to be able to handle the weather for years. Imagine you and your friend just finished building a new deck on your house, and you decide to buy a new doormat for the door leading to the deck.

You want the doormat to last as long as possible, so choose one with UV resistance. A few months later, your friend comes over for a BBQ, and you both notice that the doormat still looks great, even after lengthy exposure to the sun's daily UV rays. The color hasn't faded, the material hasn't become brittle or cracked, and it's still effectively trapping dirt and moisture.

That's the difference that added UV resistance can make. It helps ensure that your doormat will last longer than traditional rope doormats so it will continue to protect your home or building from dirt and moisture effectively. For a long-lasting investment, it's wise to select a UV-resistant doormat.
High Strength and Durability
The special type of lobster rope we use in Wicked Good Doormats can withstand a lot of wear, tear and stress, while maintaining its shape. This resilience can be attributed to the extremely tough blend of polypropylene and polyethylene, making it stronger and much more durable than regular polypropylene.

Another reason they're so strong is because of the way the rope is woven. The tightly braided ropes create a dense and sturdy mat that makes it heavyweight. Lobster Rope Doormats weigh 7-10 lbs. each, which means they are not easily blown away and will stay in place at your door.
Weather Resistant
Rain, sun, wind, and cold can make things deteriorate faster. But the great thing about lobster rope mats is that their materials can handle extreme weather. Our special rope withstands extreme hot and cold temperatures, making it ideal for any weather condition.

It doesn't rot and shed like natural fibers. So, it'll remain intact even if you leave your lobster rope mat outside in the rain, sun, or snow. UV rays, moisture, and other environmental factors that usually cause damage over time don't stand a chance.
Lobster Rope Mats Offer Versatile Coastal Home Decor Options
There are so many earthy tones like natural, brown, or gray, or go for bold and bright colors like yellow or teal - you can choose from many cool, coastal color combos when picking out your nautical rope doormat. Some doormats have unique patterns like a double weave or five stripes, giving them a fun and quirky character.
If you're looking to incorporate coastal door mats into the overall aesthetic of your coastal home, you can match them with your existing decor. For example, if you have a beachy theme, you can choose a blue or green doormat that matches the color of the ocean. Or, if you want to create a more rustic look, go for a natural-colored doormat. 

You can even incorporate the door mat into your home's aesthetic by using it as a decorative piece. Choose a bright-colored mat for your front door or on your patio, adding a pop of color to your outdoor living space. With its unique design and sturdy construction, a lobster rope doormat is a functional and stylish choice for any coastal home.
Deck Your Coastal Doorstep with a Lobster Rope Mat...
Living on the coast requires functional home items that can handle coastal weather. Coastal door mats need an extra dose of durability to weather any storm. Lobster rope mats' UV, weather, and moisture resistance make them the ideal candidate for coastal home decor.

Each style of nautical rope doormat comes in vibrant colors, unique patterns, and designs that make them a dream to incorporate into your home's aesthetic theme. 
Need more tips on how to choose the best outdoor doormat for your home? Check out our complete doormat buying guide here. If you're a coastal grandmother at heart, you'll love these modern coastal decor ideas on how to incorporate Lobster Rope Doormats to the home, and more!
Fast UPS Shipping
Orders Ship in 1-2 Business Days
Five Star Service
Fast turnaround on all inquiries
Easy Returns
Your Satisfaction Guaranteed
Local Maine Business
100% Woman-Owned