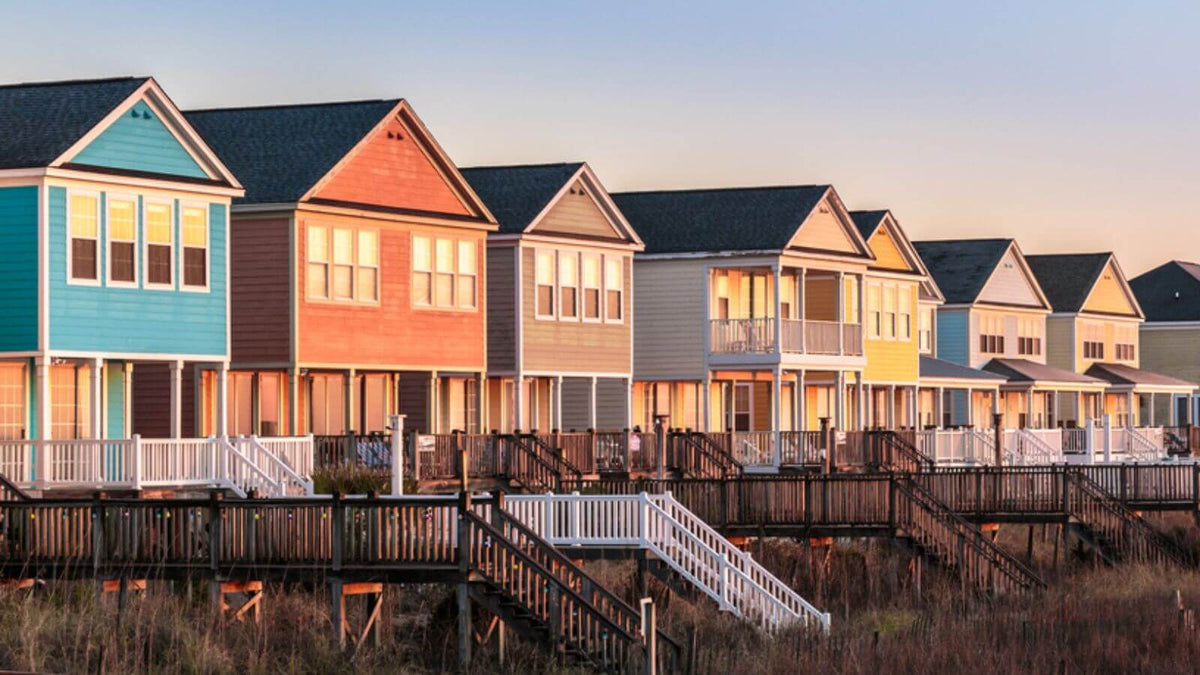 Which Outdoor Doormats Work Best for Beach House Living?
When the weather turns warmer and sunnier, beach lovers follow the warm breezes right to the seaside. Although it may seem difficult to envision the downsides to spending a day at the beach, getting sand caught in basically everything is undoubtedly an issue...
If you're lucky enough to live in a coastal paradise, you know that visitors and guests tracking sand all over your home is inevitable. Right?
Wrong! Despite our enduring love of beach-themed drinks, wind-tossed hair, and the lovely coastal charms of beach house decoration, it's essential to leave the beach where it belongs - at the beach.

In most cases, you can easily begin protecting your home with a beach doormat that can help you keep the sand out. Coastal door mats from The New England Trading Company are an excellent way to help you tie an entryway's decor together while ensuring you keep your home interior spick and span.

The best doormat for your beach house is one that will not only reduce the tracking of sand into your home, but will also put up with all the humidity of a beach area.  However, with various welcome mats available on the market today, understanding what to look for in beach house door mats is essential.
Introducing the Lobster Rope Doormat: The Best Outdoor Doormat
Investing in dependable beach theme outdoor doormats from The New England Trading Company offers you a reliable, durable mat for one of the most high-traffic locations on your property. 
With their special weave design, Wicked Good Nautical Rope Mats and Recycled Lobster Rope Doormats catch and release sand more than traditional materials while offering you a unique coastal beach theme door mat that will last a lifetime.

Coastal Doormats are the ideal solution to upgrade your front door as you keep beach sand, dirt, dust, and debris away from your home interior. Our team hand-weaves each beach doormat from extremely tough, long-lasting lobster rope designed to tether lobster traps to buoys in the sea. The New England Trading Company Lobster Rope Doormat offers your home a reliable mat that combines function with a beachy appeal.
What is Lobster Rope? How Does It Work in a Doormat?
Lobster rope, called pot rope or nautical rope, is a durable, long-lasting fishing rope used to tether traps in the ocean. This material is marine-grade, commercial fishing line designed to last while enduring extreme weather conditions and tough ocean currents. Lobster rope is an outstanding material for outdoor items like beach house door mats.

The New England Trading Co. produces this nautical rope to sustain the extreme weather conditions of the Northern Atlantic Ocean. As such, the material is mildew and mold resistant, doesn't rot, and demonstrates quick drying properties.

Lobster rope remaining intact is critical to lobstermen making a living, and the manufacturers produce the material to last. Durability and reliability are attributes that make lobster rope material ideal for woven outdoor doormats. The product can withstand some of the roughest and most rugged conditions, and keeping dirt and dust off shoes and out of your home is easy.
Why Use Lobster Rope?
As genuine examples of Maine's maritime history, our outdoor doormats use both brand-new (our Wicked Good outdoor doormats) and recycled lobster ropes (our Colors of Maine recycled mats) that are colorful, beautiful, strong, and functional. 
Fishermen depend on this completely weatherproof rope material to pull up, hold, and transport hundreds of pounds of lobstering gear from the Atlantic Ocean's depths. Rather than having the used rope end up in landfills we weave them into unique recycled lobster rope doormats. 
Mold and Mildew Resistant
Lobster rope is a quick-drying material that is a superior choice for producing coastal door mats. The New England Trading Company artisans hand-weave nautical ropes, making them durable and breathable in the worst weather conditions. 

Traditional doormats can easily get bogged down with sand and dirt, and do not stand up well to rain and snow, making them difficult to clean and causing odors and other issues. Our Lobster Rope Doormats' raised weave design helps sand, dirt, and other debris pass through the mat while still preventing these invaders from entering the home.
Retains Heavyweight Composition
Our craftsmen have various rope sizes and colors at their disposal, enabling them to create an array of beautiful coastal door mats that can complement any decor. Moreover, lobster rope material doesn't shrink or deform, quickly retaining its shape when folded and stored.

Lobster rope material is also heavyweight, durable, and strong, commonly used in towing, docking, and handling heavy loads. New England Trading Company mats don't slap in the wind or slide around a front entryway and weigh 7 to 10 pounds each.
Easily Cleaned and Maintained
Nautical rope's strength combined with our special weave design helps our doormats catch beach house sand like no other. But because the mats don't retain the debris, they don't get heavy after prolonged use, allowing you to clean and maintain them easily. Simply lift the mat and sweep away the dust, dirt, and sand the mat captures.

Our craftspeople weave lobster ropes extremely tight to produce the best doormat for a beach house, alleviating any susceptibility to premature wear no matter the elements it faces or how many people wipe their feet on it each day.
The Best Doormats for Beach House Living
From bright stripes to more earthy, natural tones, The New England Trading Company produces doormats that work beautifully with any front door. These mats are the ideal addition to any coastal home entryway. Our artisans craft these coastal door mats in many coastal color combinations to fit any decor flawlessly.
To learn more about The New England Trading Company and how our nautical rope outdoor doormats can help you keep your beach home or another residence clean and healthy, be sure to check out our Wicked Good Doormats and Recycled Lobster Rope Doormats collections - these mats are the perfect front door additions to your coastal home, built to withstand all weather conditions and keep your entryway looking beautiful...
Ready to find the perfect front door mat for your home? Check out our complete outdoor doormat buying guide here. Plus, check out these tips on how Lobster Rope Doormats can significantly boost your curb appeal and make your guests smile every time. 
Love beachy door colors? Here are some of our favorite pairings of front doors and our own nautical doormats!
Fast UPS Shipping
Orders Ship in 1-2 Business Days
Five Star Service
Fast turnaround on all inquiries
Easy Returns
Your Satisfaction Guaranteed
Local Maine Business
100% Woman-Owned